Screencastify vs. Loom: Comparing Top Screen Recording Tools
Anna Sonnenberg
Oct 26, 2023
As two of the most recognizable screen recording tools, Loom and Screencastify are both good options for creating video messages to share with clients, colleagues, and students. So what sets them apart, and which is the better tool?
In this guide, we'll compare Screencastify vs. Loom pricing, features, and use cases. We'll also explore when a screen recorder like Komodo is an even better choice—especially when you want to create unlimited videos for free.
Screencastify vs. Loom: Quick Comparison
Screencastify and Loom have a lot in common. Both are asynchronous video communication tools that capture your device's screen and webcam. As screen recorders, they can produce, edit, and share video messages.
How are they different, and why would you choose one over the other?
Loom is mainly for business. It's designed to improve productivity and collaboration, and it has AI tools for teams.
Screencastify is mainly for education. It gives teachers and students simple tools to connect and learn via video.
Is there anything these screencasting tools can't do? While both can record video walkthroughs, neither works as a guide creation tool. Neither Loom nor Screencastify can create step-by-step guides to share workflows with students or document standard operating procedures (SOPs) for colleagues or clients.
As a screen recording and guide creation tool, Komodo can do both. If you need a reliable solution that works for more use cases, Komodo is a better choice. And since even the free version of Komodo includes unlimited videos with no time limits, it's much more cost-effective than either Loom or Screencastify.
How does Screencastify work?
Screencastify is a visual communication tool for creating personalized or on-demand videos. It's ideal for producing visual lessons for students, sharing custom feedback with colleagues, and creating video libraries that teams and classes can watch at any time.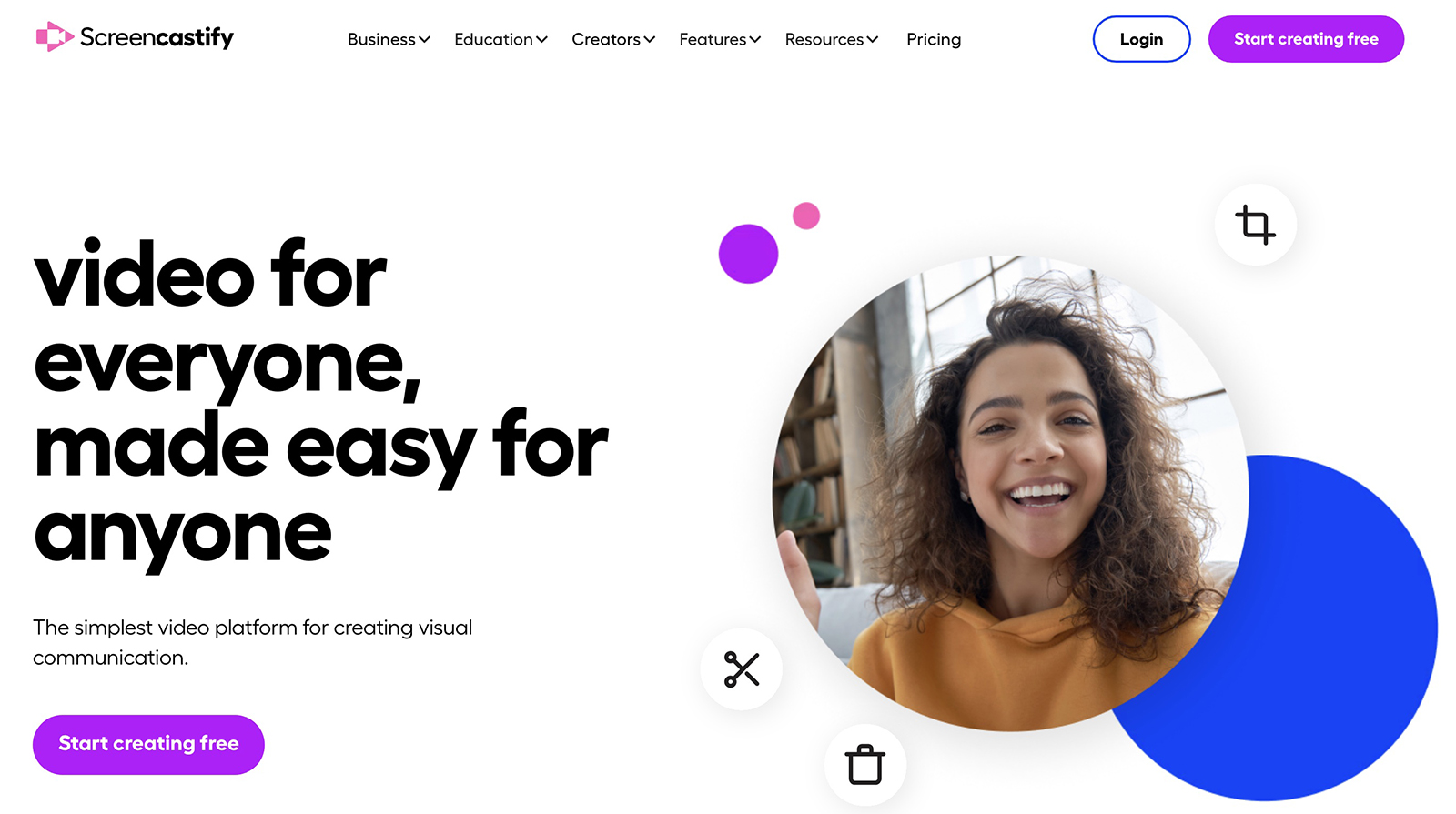 While it's one of the top Loom competitors, Screencastify has some unique capabilities that similar tools don't. Because it's designed with educators in mind, Screencastify integrates with Google Classroom and has an assignment submission feature for students and teachers.
How does Loom work?
Loom is a video messaging tool for async communication. It works well for sharing feedback with colleagues, explaining proposals to clients, or sending updates to stakeholders. It's ideal for distributed teams that aim to eliminate real-time meetings for more efficient collaboration.

As one of the most popular Screencastify alternatives, Loom has some features that set it apart from the competition. While Screencastify hasn't yet launched any AI-powered tools, Loom AI automatically creates titles, chapters, and summaries—and even assigns tasks to colleagues.
Loom vs. Screencastify (vs. Komodo)
Let's compare these popular screen recording tools side by side. We'll also look at how Komodo compares in terms of features, use cases, and pricing so you can see how it stacks up as a Screencastify and Loom alternative.
Features and capabilities
From video creation and editing to sharing and collaboration, here's how these screen recording tools compare.
Screen recording capabilities
Screencastify and Loom have similar screencasting tools. Both are Chrome screen recorders that work directly in your browser. The two tools can record activity in your browser window as well as audio and video from your webcam.

Pictured above, Screencastify's screen recorder is relatively basic. It lets you choose what to record and where to source audio, but that's it. Below, Loom's screen recorder also supports virtual backgrounds for your webcam and lets you create custom canvases as backdrops.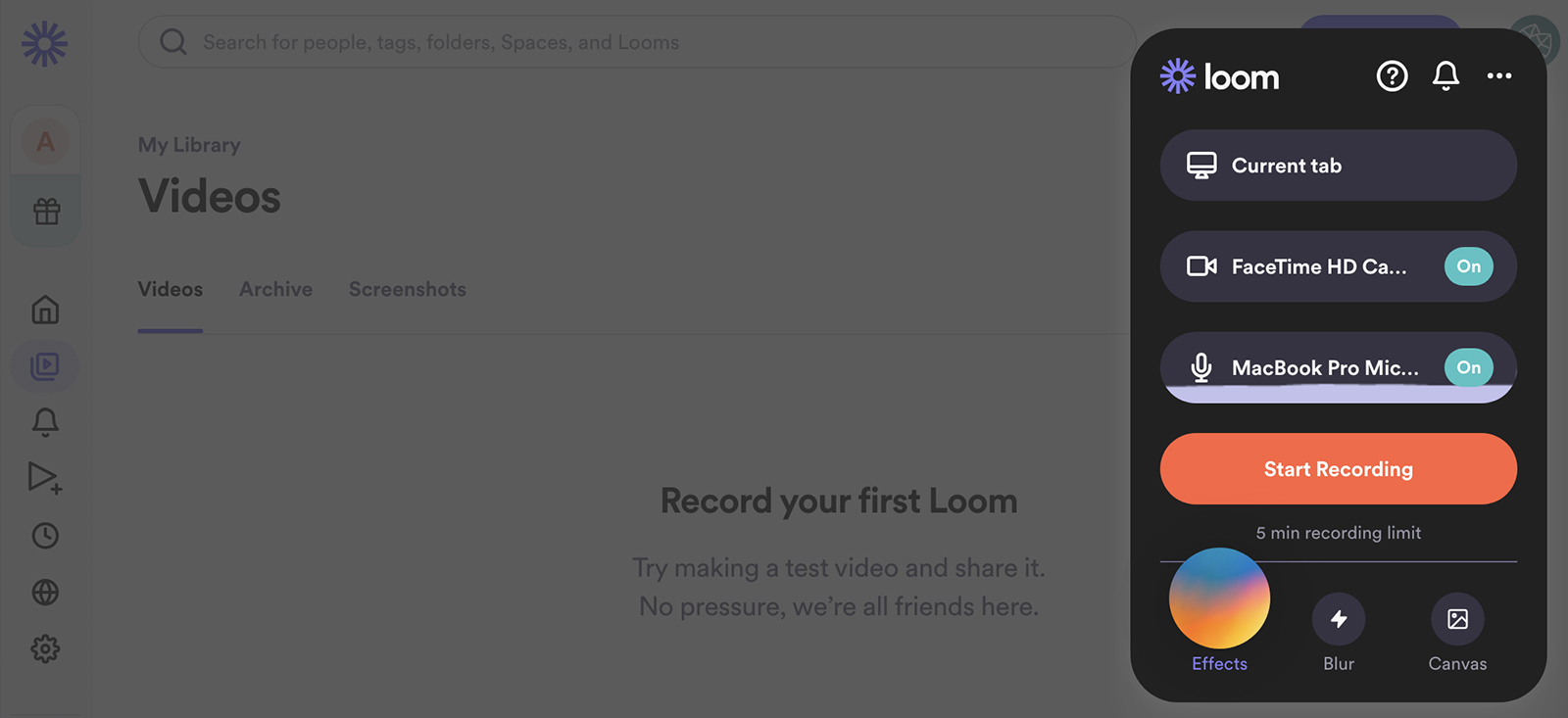 When you use Komodo's screen recorder, you have the option to display your avatar rather than your webcam feed. You can also opt to add a step-by-step guide to your video or create a standalone guide.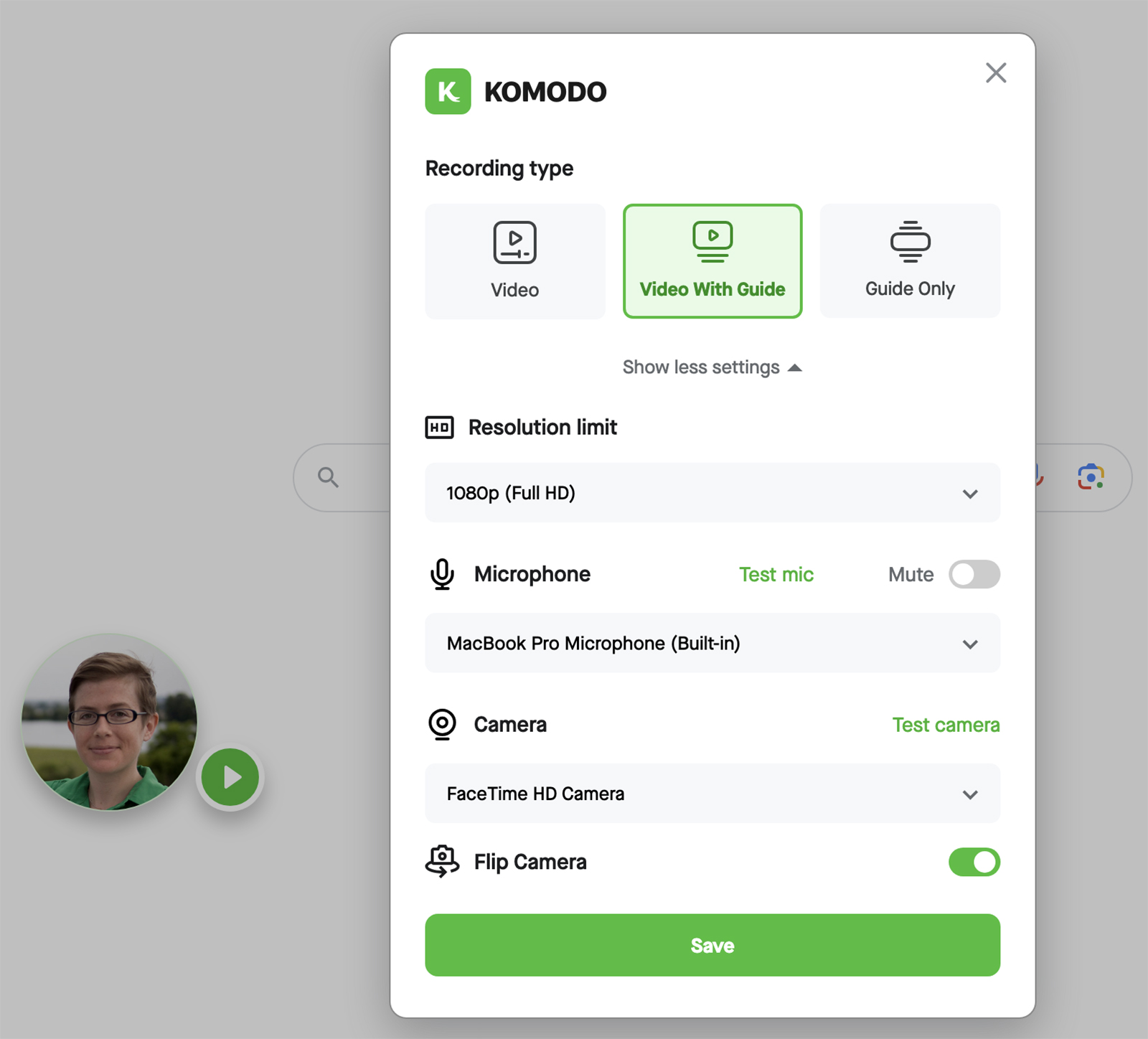 If you opt to create a guide, Komodo will automatically track the actions you take and turn them into steps. The app takes screenshots, adds annotations, and transcribes instructions for you.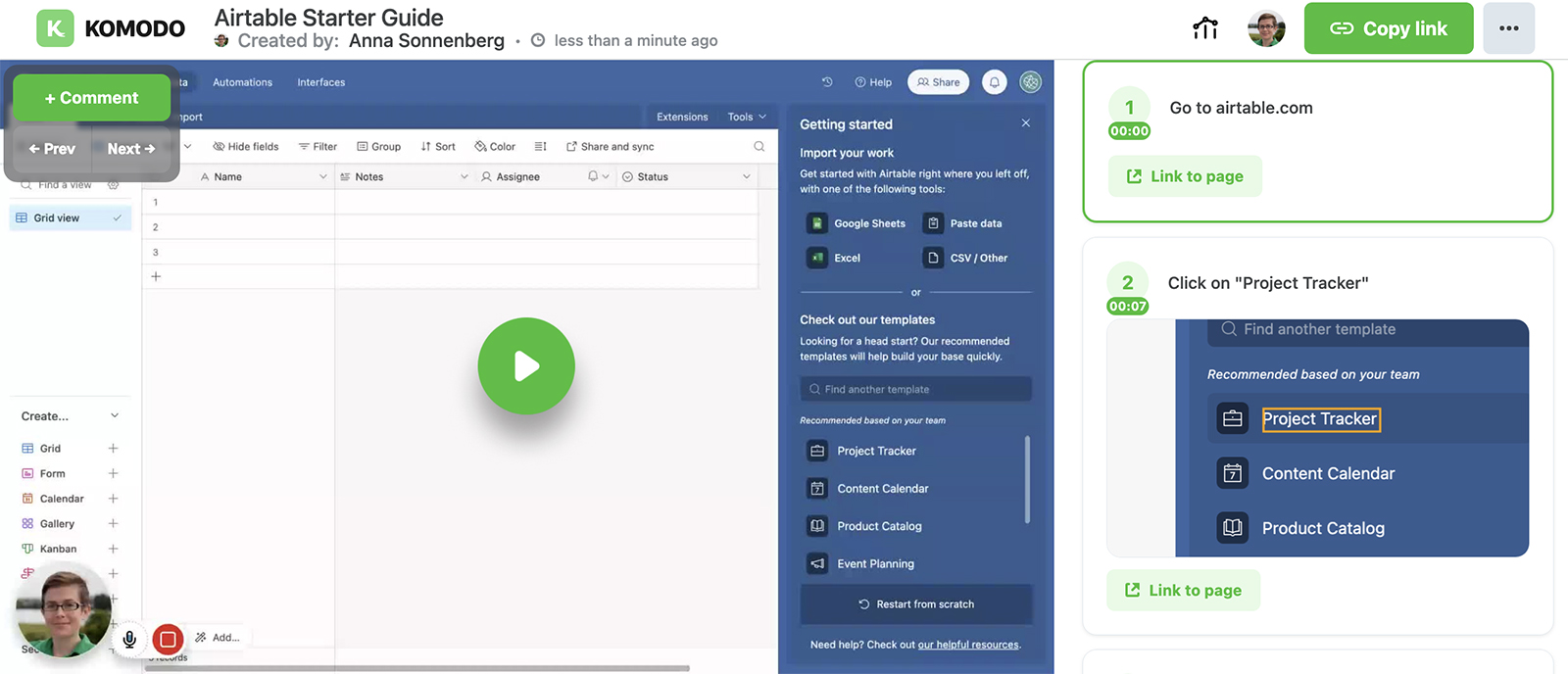 Annotation tools
When your on-screen activity and audio explanations aren't enough to direct attention or clarify your point, annotations can help. With Screencastify (pictured below), you can add rectangles, freeform drawings, and stickers.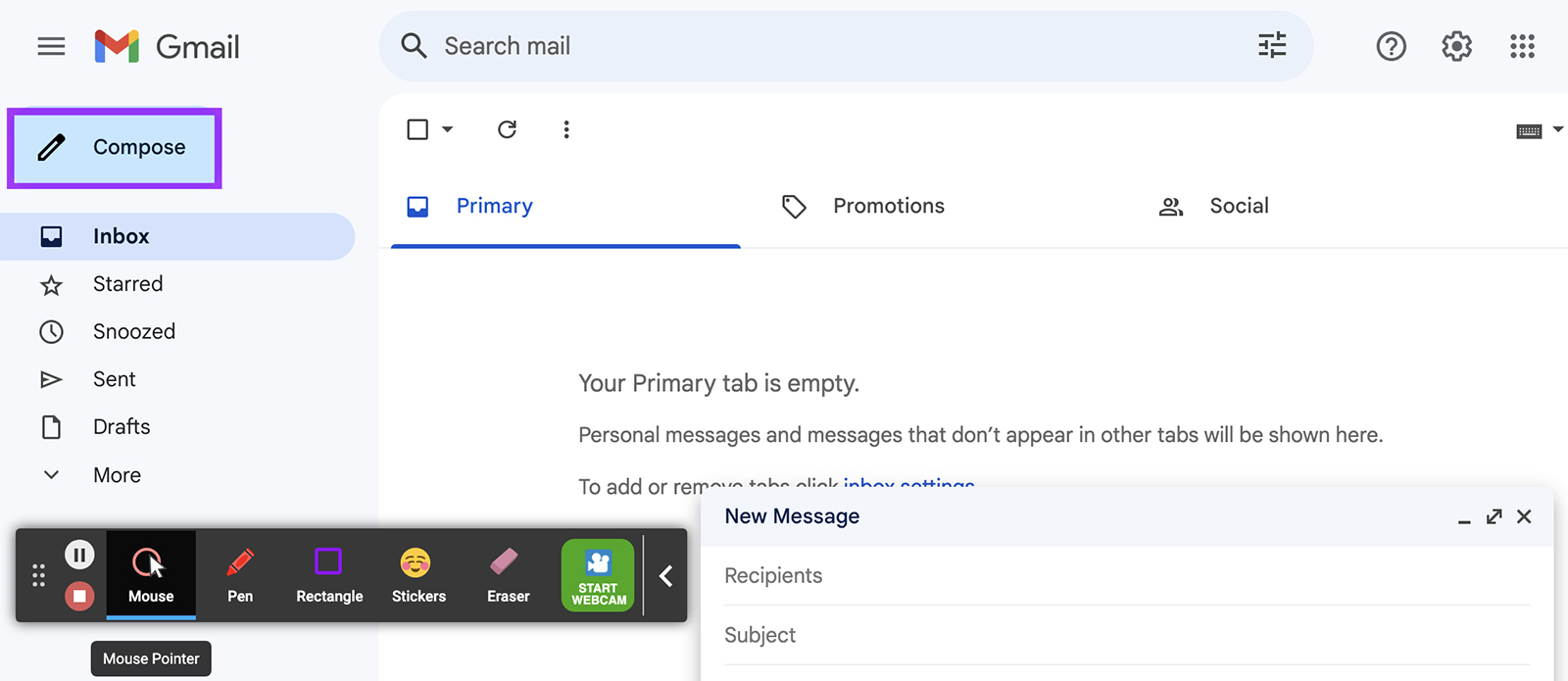 Loom offers a drawing tool and mouse emphasis. However, these tools are available with the desktop app only, not when using the Chrome extension.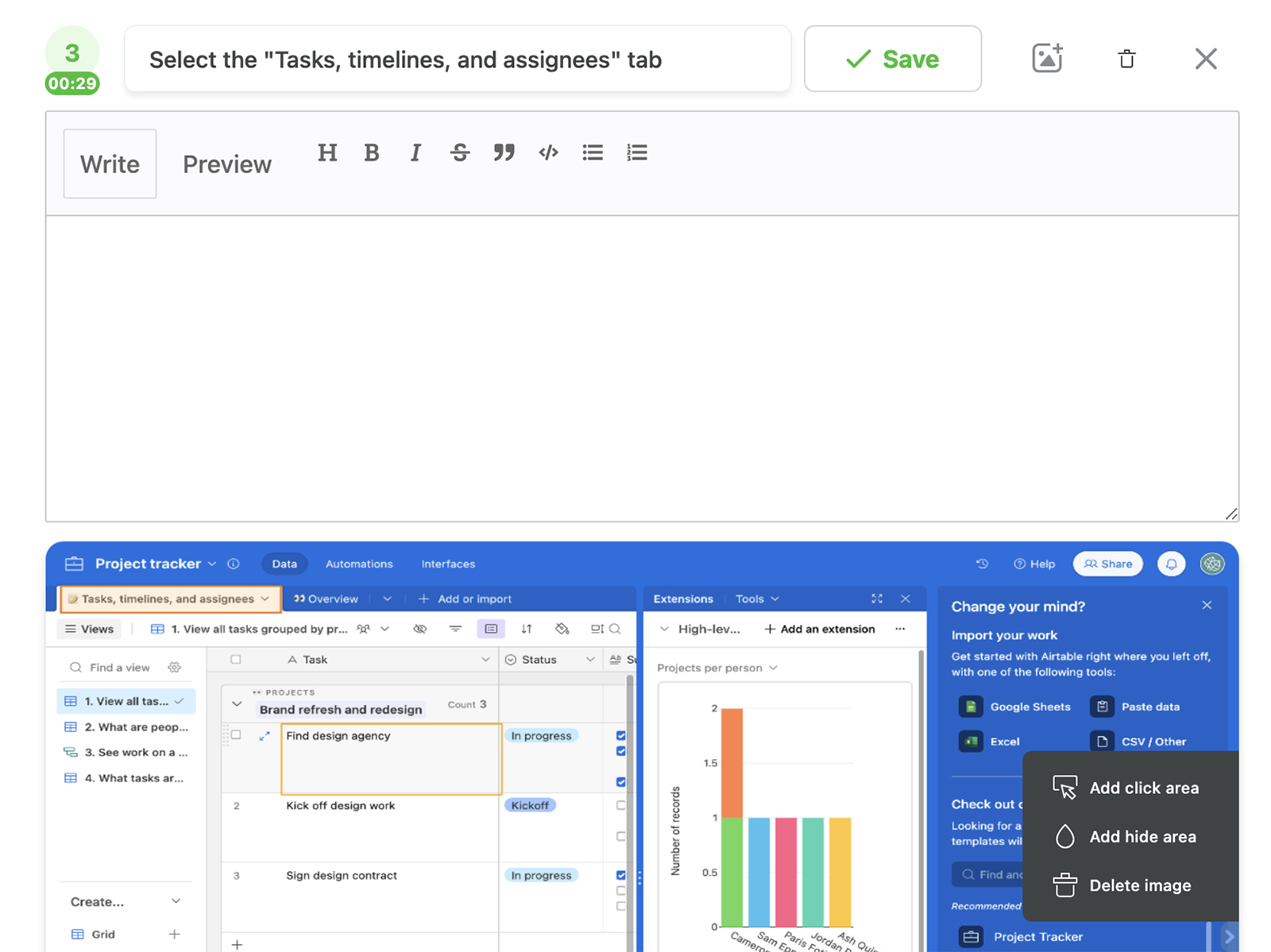 Komodo doesn't support custom on-screen drawings. However, it does create annotations automatically. You can also add click annotations after recording in Komodo's guide editor, as pictured above.
Editing tools
If you didn't get your message perfect on the first take or if you want to combine multiple videos, native editing tools are essential. However, both Loom and Screencastify have relatively basic editing options.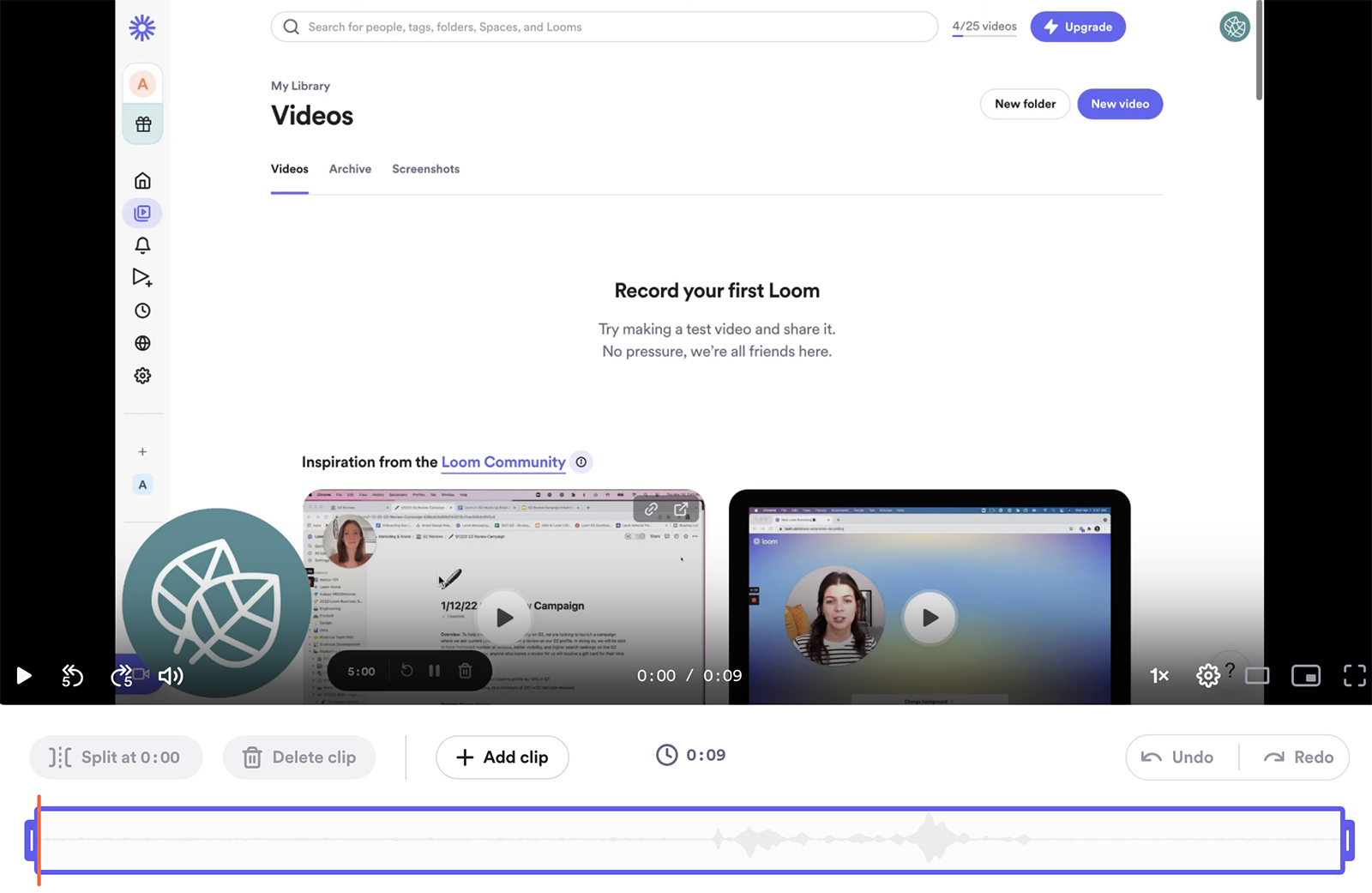 Loom's editing tools (pictured above) support trimming, stitching, and merging. With these tools, you can also add or delete clips in existing videos. If you add on Loom AI, you can remove filler words and silence automatically.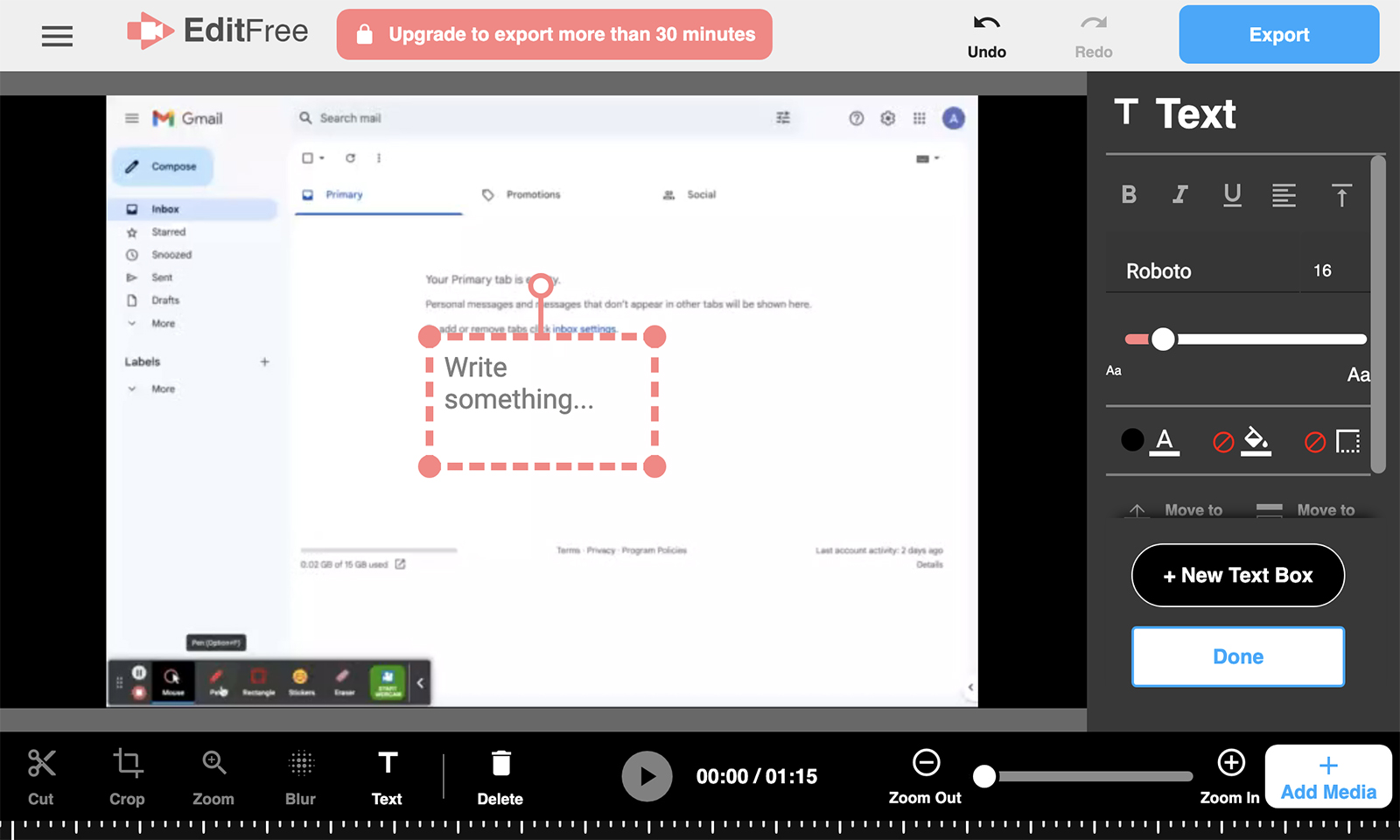 Like Loom, Screencastify's editing screen (pictured above) allows cuts and added clips. It also lets you add text and blur on-screen areas.
Komodo's editing suite (pictured below) is by far the most advanced. It automatically transcribes the audio from your video, allowing you to edit word for word. You can re-record over specific words or sections to fine-tune the audio.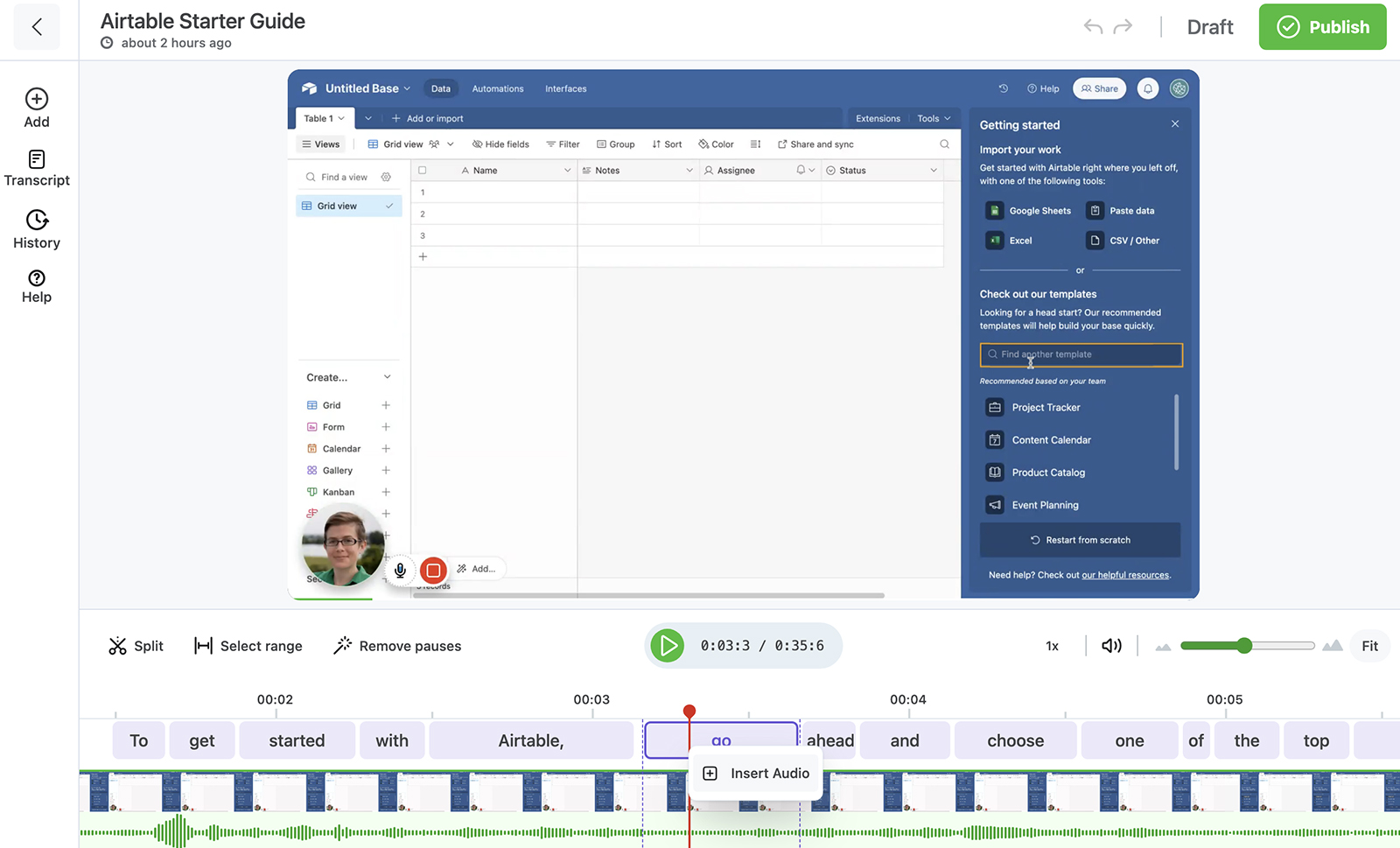 To edit more efficiently, you can use Komodo's clean cut feature to remove all pauses with one click. You can also split and trim the video and insert existing videos to create a cohesive piece of content.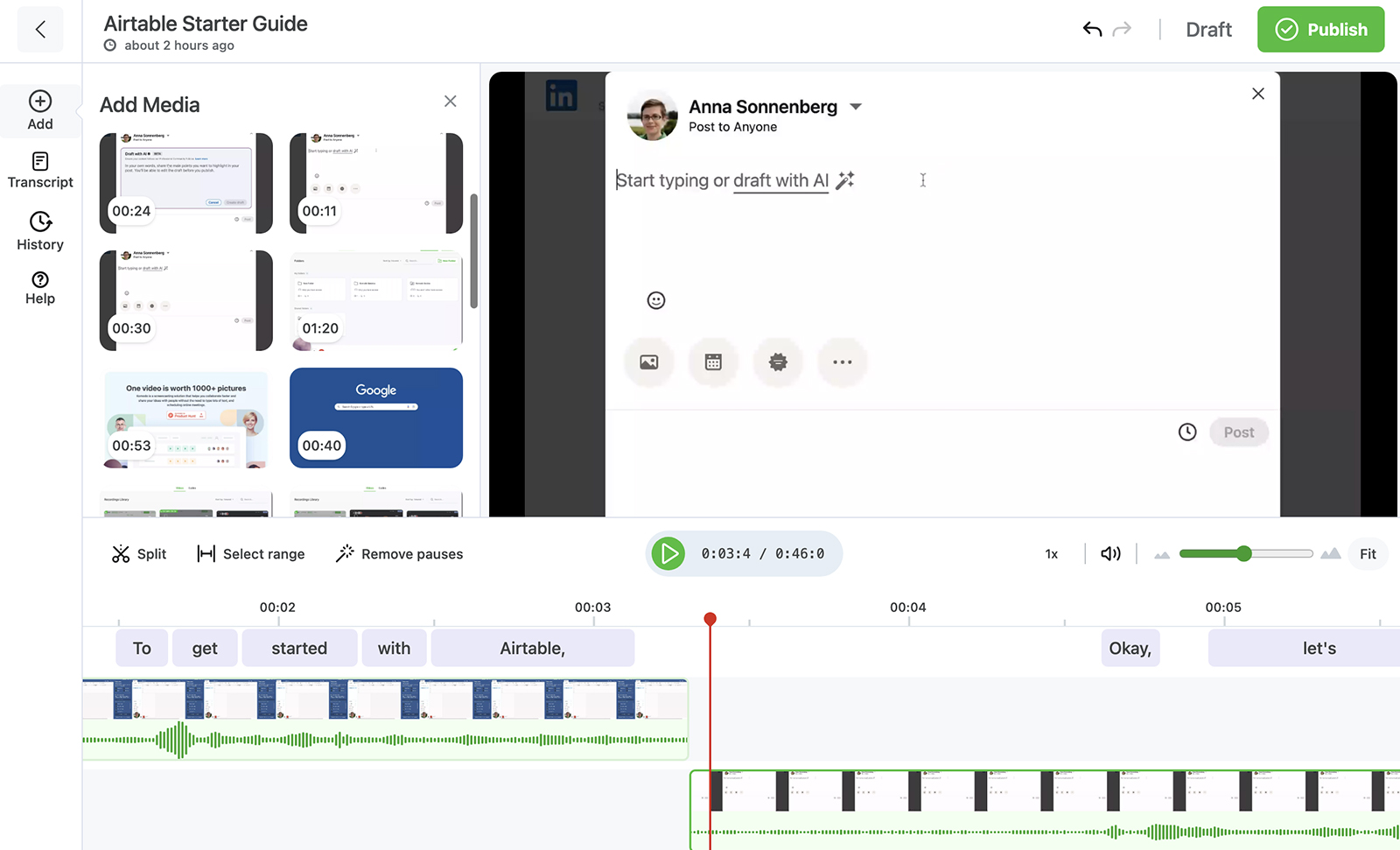 Branding tools
Whether you're recording async videos for business or education, custom branding can give your content a distinctive look that's consistent across your video library. Screencastify doesn't offer branding tools, but both Loom and Komodo include them with paid plans.
With a Business plan, you can remove the Loom branding from both the video page and the embedded player. You can also place your company logo on the video page and customize the video player colors.
As a Komodo Personal or Team user, you can create a custom domain for your video content. Then you can set a logo, select brand colors, and add other custom branding options.
Sharing and privacy
Screencastify supports video sharing via URL and export. When sharing via URL, you can allow anyone with the link or anyone within your organization to view the video. You can also use Screencastify's page share settings (pictured below) to require viewers to sign in before watching.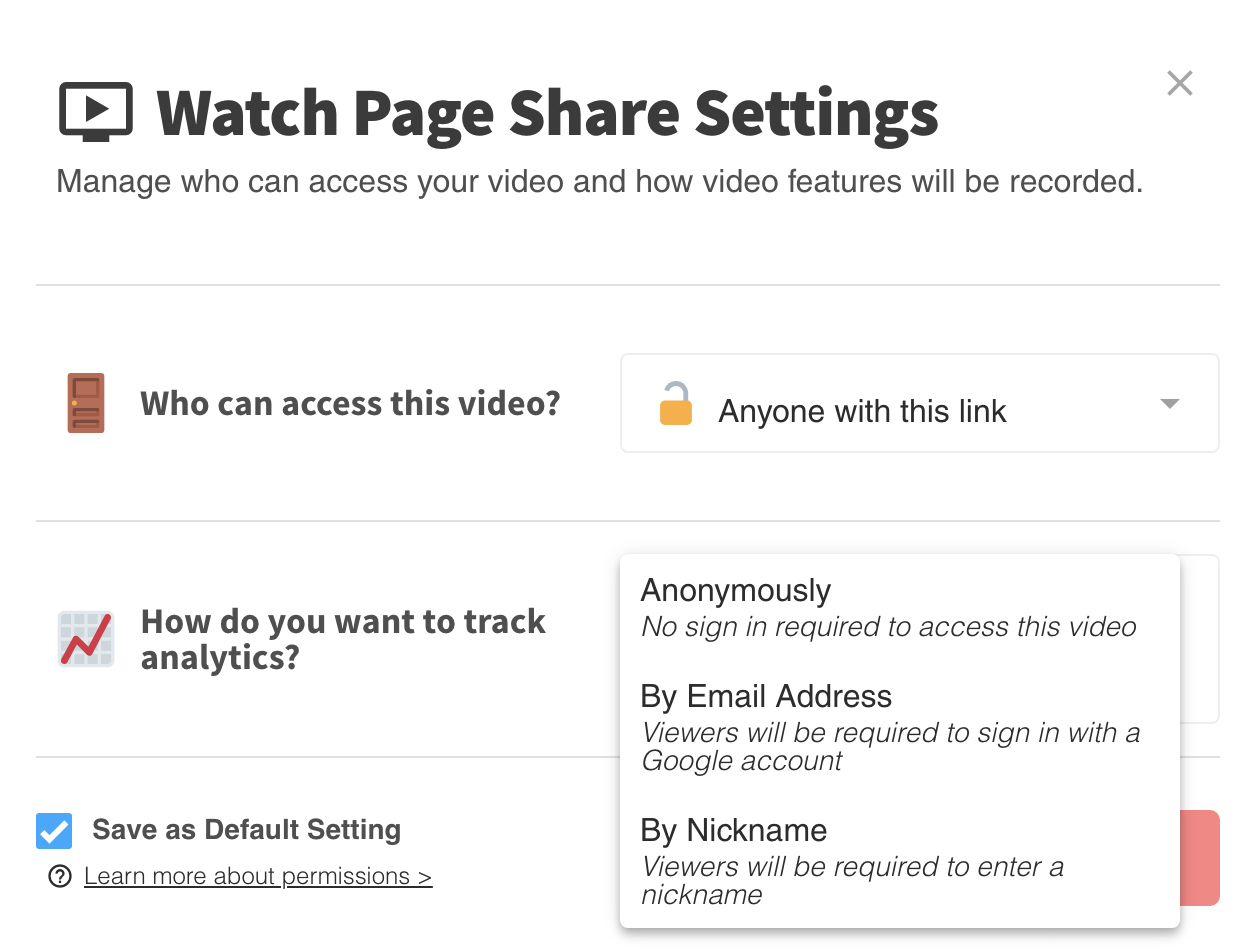 Loom allows you to share content via link, publish in a social media post, or embed videos. You can adjust the privacy settings (pictured below) for each video to keep it secure or make it widely available.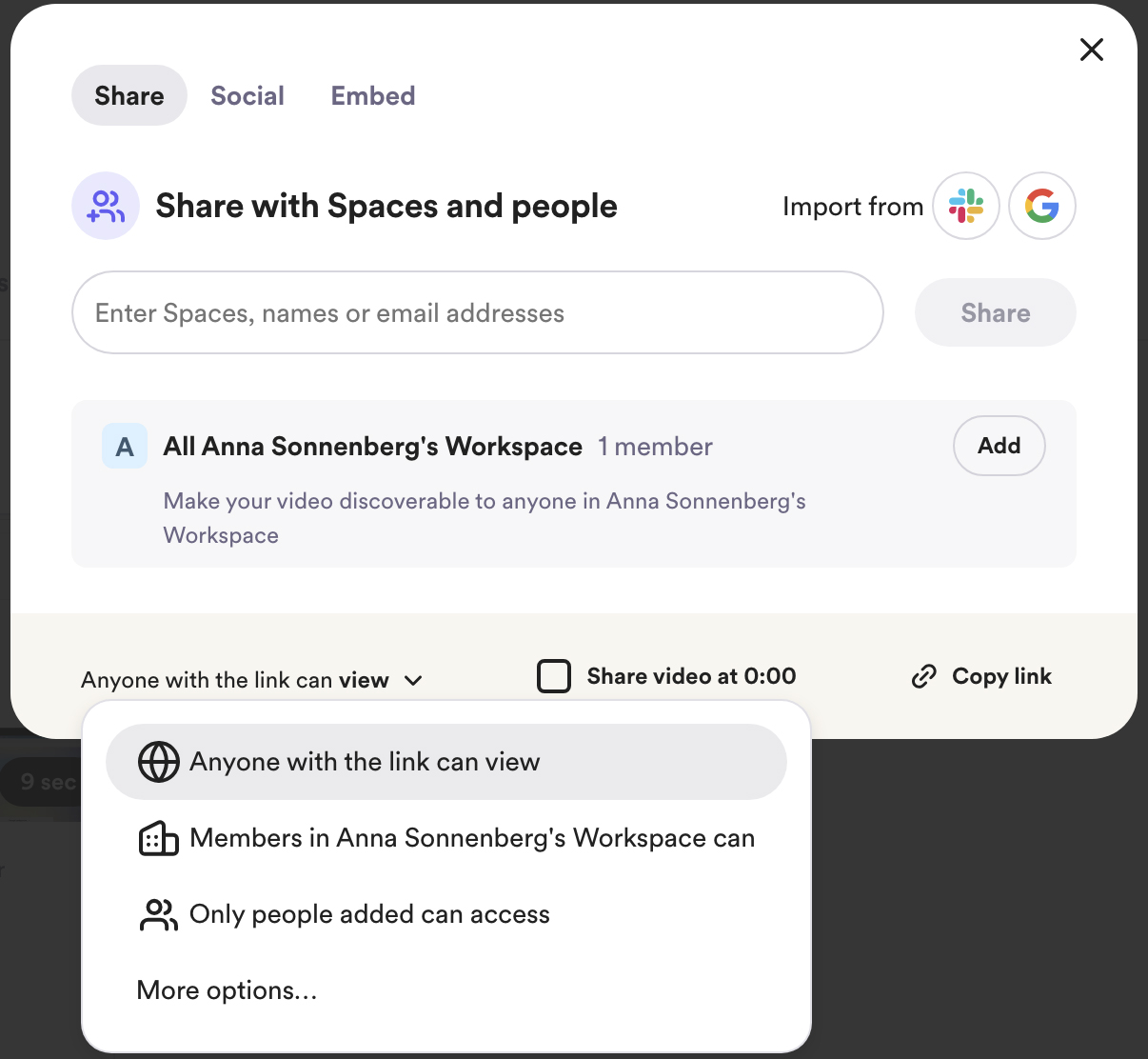 Komodo supports video embeds and sharing via URL. With Komodo's advanced privacy settings (pictured below), you have options for allowing feedback, downloads, expiration, and password protection.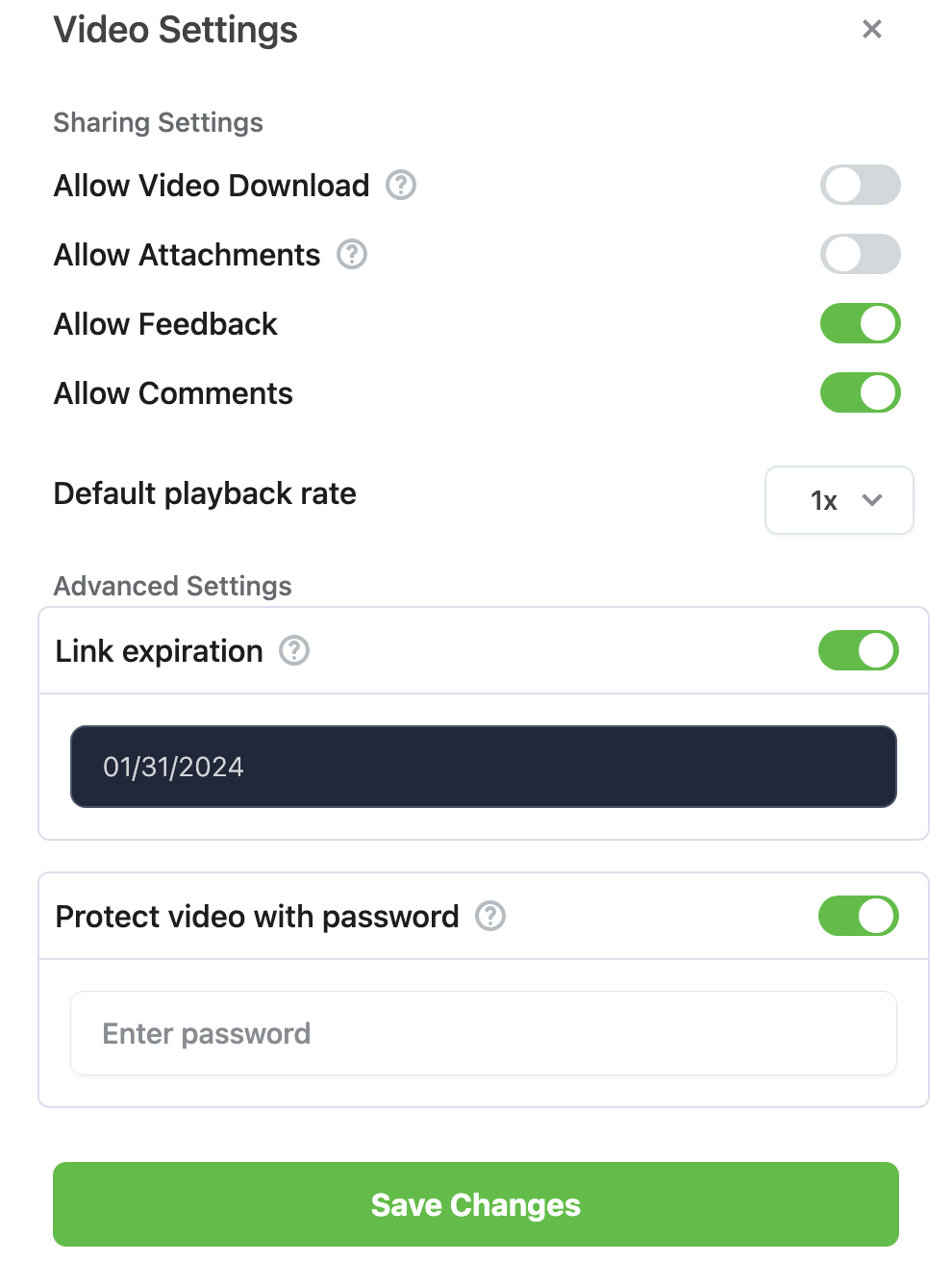 Komodo also has a page builder (pictured below) that lets you customize the branding and other details that display on your video watch page. You can adjust the color scheme, add titles, insert attachments, and show multiple related videos.
Engagement capabilities
Komodo and Loom encourage engagement by allowing viewer comments on video pages. Loom also supports emojis and written feedback at specific timestamps as well as video responses.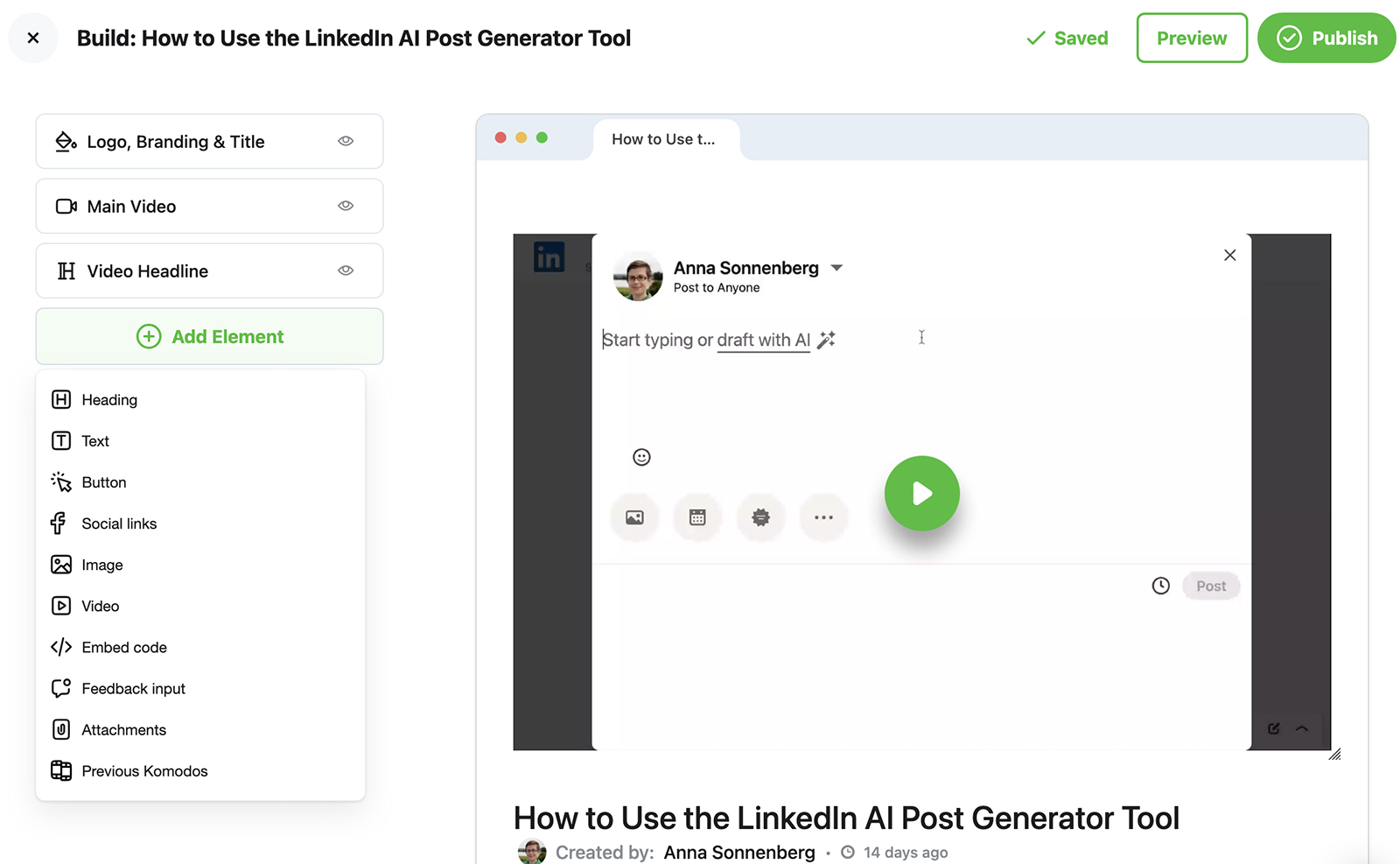 Both tools also support embedded links in videos. To direct viewers to external resources, Komodo lets you add calls-to-action with URLs (pictured above).
Screencastify doesn't support comments or emojis. As a tool for educators, it has interactive questions and assignment submissions instead. Note that you have to connect a Google Classroom account to submit videos.
Video analytics
All three tools offer analytics, to help you measure video performance and monitor who sees your content. However, Screencastify's analytics are relatively basic (pictured below), as they show viewer counts and dates only.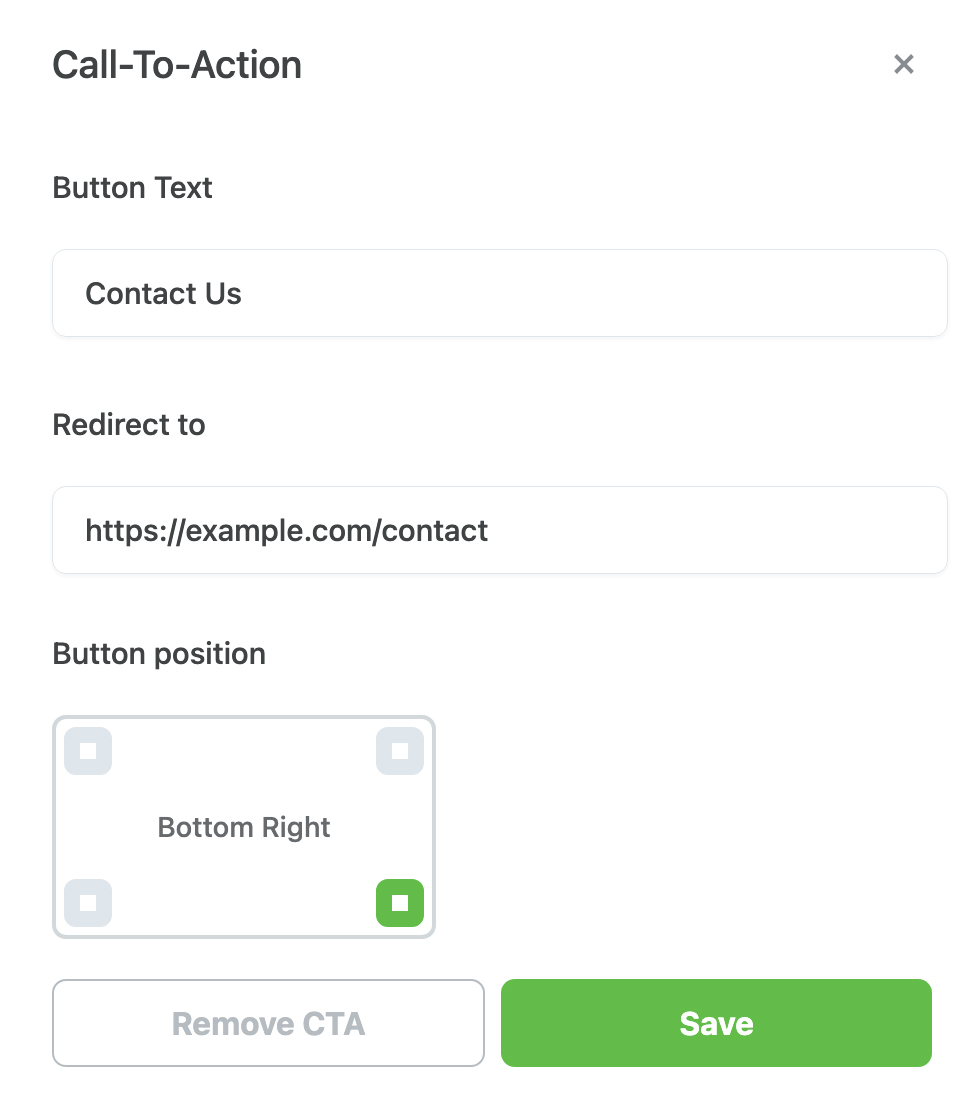 Loom's free analytics (pictured below) are also basic, showing the view count only. With paid plans, Loom offers engagement analytics and reports available for export.

Komodo (pictured below) tracks the number of views and the percentage viewed for each video. If logged in viewers watch your content, their information will also display.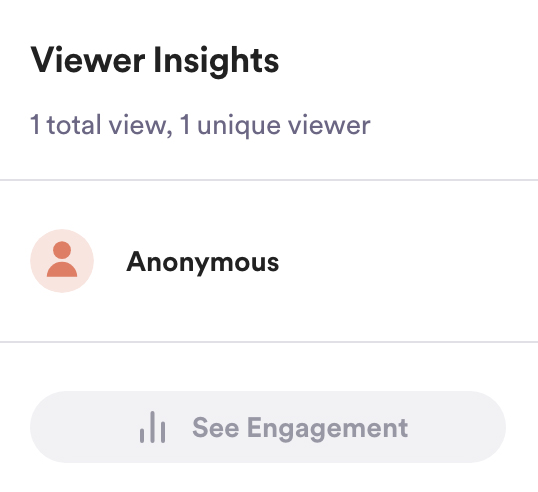 Collaboration options
Screencastify offers team-based tools with its enterprise plans only. In contrast, Loom's offers team workspaces with personal, shared, and team libraries for all plan tiers.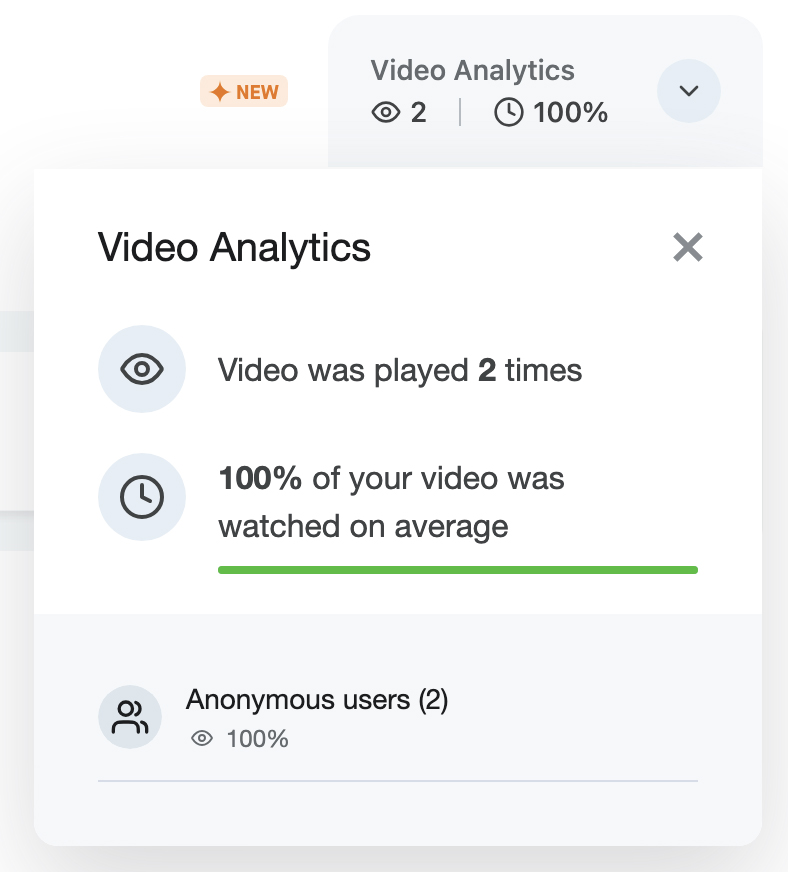 Komodo's shared workspaces also have team folders as well as collaborative workflows. In a shared workspace, you can also select permissions (pictured above) and assign guide editing duties to team members.
App integrations
Screencastify has direct integrations with select Google apps. It works with Google Drive and Google Classroom.
Loom has far more integrations. It works with communication apps like Slack and Gmail and project management tools like Jira and Notion. It also works with Salesforce, but only for enterprise customers.
Komodo has an API that you can use to create custom integrations with your tech stack. This capability is available for enterprise customers.
Compatible platforms
While Screencastify works only as a Chrome extension and requires a Google account sign-in, Loom has additional options. Loom offers a desktop app for Windows and macOS as well as a mobile app for Android and iOS.
Like Loom, Komodo has a Chrome, desktop, and mobile screen recorder. But unlike Loom, Komodo doesn't require you to download an app to get the most advanced tools. With Komodo, you can create, edit, and share right from your browser.
Audiences and use cases
Technically, either Loom or Screencastify can work for business, education, or both. However, Loom is much better for professional users, while Screencastify is better for teachers and students.
Screencastify's Google Classroom integration, interactive lessons, and assignment submissions make it ideal for academic institutions. With this tool, teachers can produce on-demand or personalized video lessons, while students can create and complete video homework.
Loom's team workspaces, viewer feedback, and embedded links make it ideal for communicating with colleagues and clients. Loom works well for:
Sales teams that need to create personalized outreach
Marketing teams that need to make branded content
Customer support teams that need to create knowledge bases
Design teams that need to provide async feedback
Product teams that need to plan launches and record demos
Engineering teams that need to fix bugs and improve products
Komodo's screen recording and editing tools make it a solid choice for all these use cases. But because Komodo is also a guide creation tool, it's just as useful for:
Operations teams that need to create SOPs or document processes
HR and people teams that need to train or onboard employees
Pricing tiers
Whether you're looking for a free video messaging app or an enterprise tool for your entire team, all three can be good options—until you factor in the cost and capabilities. Here's how Loom, Screencastify, and Komodo pricing compares.
Free versions
While all three tools have free plans, Loom and Screencastify cap both video numbers and duration. Loom's free plan allows up to 25 videos as long as 5 minutes. Screencastify's free plan allows just 10 videos, each with a 30-minute limit.
In contrast, the free version of Komodo includes unlimited videos with no time limits as well as step-by-step guides with up to 10 steps each. If you want a free tool that won't force you to upgrade after 10 or 25 videos, Komodo is the best choice.
Paid plans
Once you reach the free video limit for Loom or Screencastify, you'll likely want to consider upgrading to a paid plan. Both tools offer unlimited videos for paid users, but their plans are structured a little differently.
Loom has a single paid plan priced at $15 per user per month. With the Business plan, users can add custom branding, upload and download videos, access annotation tools, and get advanced analytics.
The Business plan also includes optional access to Loom AI tools. However, this AI suite is available as an add-on that costs an extra $5 per user per month.
Screencastify has two paid plans. Both include video exports, viewer analytics, and unlimited video length. However, it's important to note that neither is designed for team usage.
The Starter plan ($15 per month) has 25GB of video storage and one active assignment. Screencastify's Pro plan ($20 per month) has 100GB video storage and unlimited active assignments.
Komodo also has two paid plans, but one is for solo users, while the other is for teams. The Personal plan is priced at $5 per month, making it a much more affordable option for individuals. This plan includes AI transcript based video editing, custom branding, a page builder, and unlimited guides.
Komodo's Teams plan starts at $20 per month for five users, making it a much more cost-effective option for teams as well. This plan also includes collaboration features like folders, team editing, and role assignments.
Enterprise options
Screencastify, Loom, and Komodo all offer enterprise plans for large organizations that need more robust security and collaboration capabilities. Pricing for each typically varies based on the number of seats.
Screencastify's enterprise plan is designed for schools. It includes institution-wide usage reports, license management, and professional development resources.
Loom's enterprise plan focuses on advanced security and privacy. It includes single sign-on (SSO), custom data retention settings, and a native Salesforce integration.
Like Loom, Komodo's enterprise offering includes SSO for added security. It also has API integrations and advanced settings for teams, roles and rules for increased productivity and privacy.
Start Creating With a Top Screencastify and Loom Alternative
Whether you need a screen recording tool for business or education, Komodo has free, paid, and enterprise plans for every team. Install the Komodo Chrome extension to start creating and sharing video messages and how-to guides for free.
Get Unlimited Recordings with KomodoGet Komodo for FREE
About the author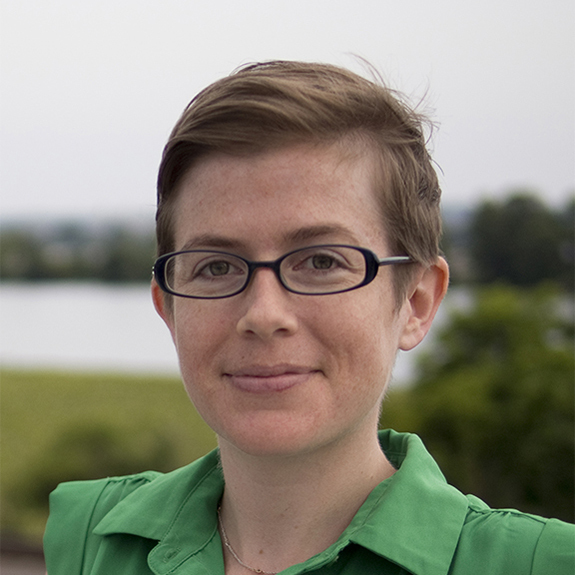 Anna Sonnenberg
B2B SaaS writer
Anna Sonnenberg is a B2B SaaS writer specializing in product-led and strategic content marketing for martech, sales automation, and productivity platforms.