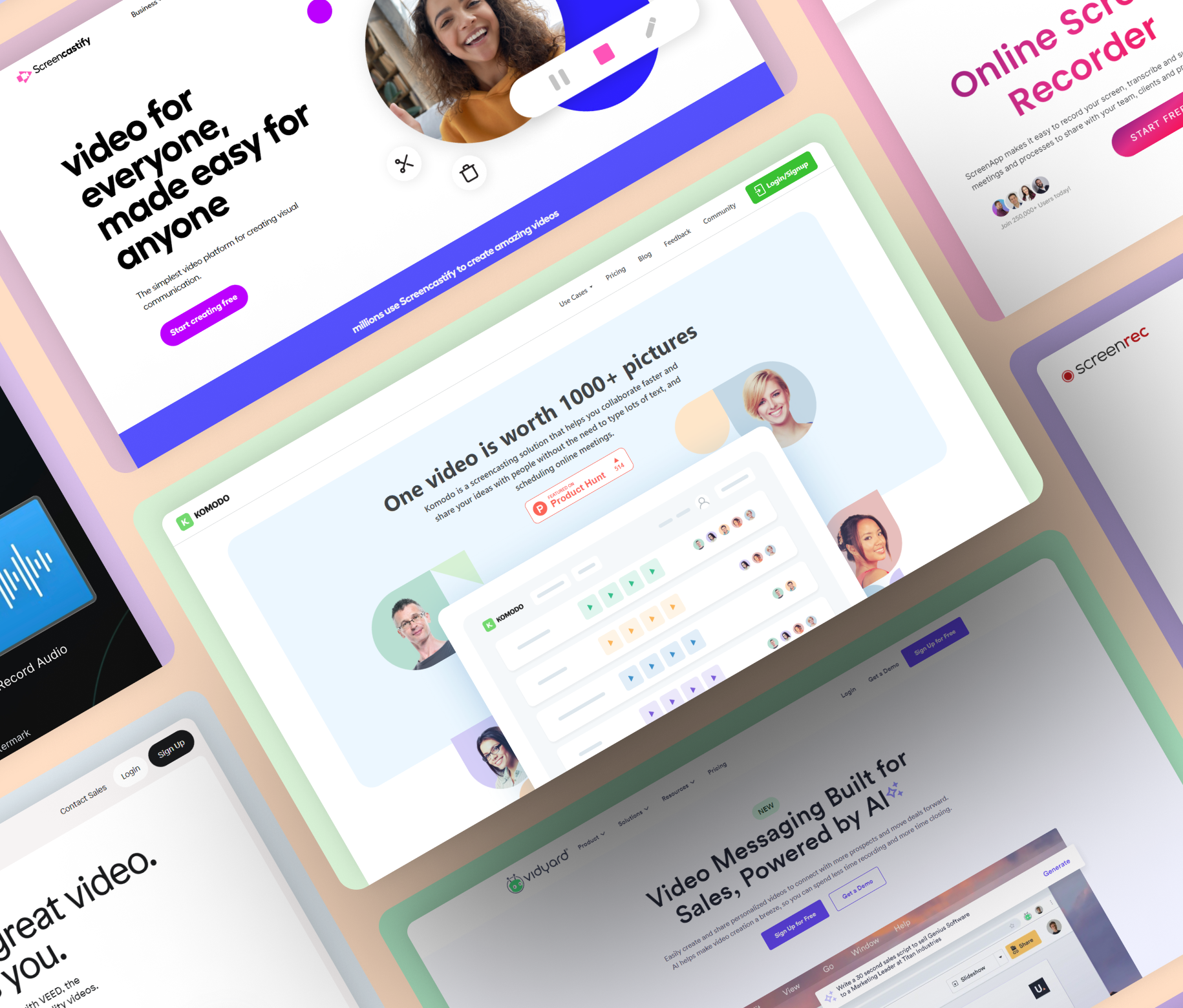 15 Free Screen Recorders With Unlimited Recordings
Khanan Grauer
Aug 30, 2023
If it seems like there's never enough time to do meaningful work, you're not wrong. According to a Microsoft report, spending the equivalent of two days on email, chat, and meetings every single week is standard for nearly 60% of users.
With screen recording software, you can take back some of that time by communicating asynchronously. Instead of writing emails or scheduling meetings, you can share your screen and talk through ideas—on your time.
Have a small budget or want to get a feel for the software before buying? There are plenty of great no-cost options to consider. In this guide, we'll cover the best free screen recorders with the most generous features.
Record your screen with KomodoGet Komodo for FREE
What is a screen recorder?
A screen recorder is an app that captures activity on your device's screen in video format. Many tools in this category also document audio voiceovers, and some can record your device's webcam feed too.
When to Use Screen Recording Software
Screen recorders are ideal for async communication. They're smart choices for collaborating with clients, colleagues, and students in different timezones.
Need to check in with a colleague or follow up with a client? Creating a screen recording can save you the hassle of booking, rescheduling, or turning down a meeting.
Want to share a complex concept but don't have time to write a novel-length email or Slack message? Screen recordings let you share ideas and include visuals to illustrate your point.
Ways to Use Screen Recording Tools
Curious how these apps could fit into your workflow? Some common use cases include:
Sharing a project update: Get your team up to speed on project milestones or explain issues you've encountered.
Introducing yourself to a prospect: Create personalized outreach to get prospects' attention and make connections.
Demoing a product for a lead: Walk leads or customers through key features so they can see how the product works.
Launching a new feature: Showcase features your product team just dropped and embed videos in marketing materials.
Recording a presentation: Capture the slides and audio from a webinar to share with your team or your community.
Teaching a lesson: Record video lessons for your class or create custom explainers for individual students.
Sending a personalized thank you note: Tell colleagues, clients, or customers how much you appreciate them.
How to Choose the Best Screen Recorder
There are dozens of free tools in this category. To find the right one for your needs, use this simple buying guide.
What does the free plan include?
Many screen recording apps have a free version. But some place strict limits on the free plan, rendering it useless as a long-term solution. Check for restrictions like:
Number of videos: When you need to build a large video library, you need an app that won't restrict you to just a few recordings. For example, Vidyard limits free plans to 25 videos.
Video length: If you need to create quick async updates, time limits might not be an issue. But for presentations or demos, you need a free screen recorder that won't cut you off. For example, Loom limits free videos to 5 minutes.
App watermarks: Watermarks can make screen recordings look unprofessional. Removing them can add time, hassle, and yet another app to your workflow. For example, FlexClip watermarks videos made with a free plan.
So do any free screen recording software platforms offer truly unlimited video creation without time limits or watermarks? Komodo's free plan checks all these boxes. See the full feature breakdown below.
Where can you use the software?
Ideally, your screen recorder works wherever you need it—whether that's on a mobile device or in a desktop browser. Each tool is designed for different apps or operating systems. Some of the most common setups include:
Chrome screen recorders or extensions that record directly in your browser, such as Komodo
Desktop apps that you can download and use anytime, such as ScreenRec
Mobile apps that can record smartphone screens, such as Loom
First-party apps that only work in their respective clients, such as Clip by ClickUp and Slack Clips
Where does the platform store videos?
When you need a tool that fits into your workflow, video storage locations matter. Most screen recording apps store your videos in the cloud, and you can share or download them directly from the app.
But some connect to third-party tools. For example, Screencastify stores videos in your linked Google Drive account, which means you'll need to allow for any Google Drive storage limits.
How can you share videos?
Once you create a screen capture, you need an easy way to share it with your team. Most free screen recorders allow one or more of these options:
Links, meaning you can send a public or private URL to anyone
Embeds, meaning you can upload the video directly to an email or website
App integrations, meaning you can upload the video directly to a third-party site like Slack or Google Classroom
Who is the target audience?
It's also worth checking the target audience for any software you're considering. If it's designed for your use case, it's much more likely to have the tools you need. Most screen capture software is designed for one or more of these audiences:
Sales teams and outbound outreach (i.e., Vidyard)
Business and professional use (i.e., Loom)
Education, including students and teachers (i.e., Screencastify)
Record your screen with KomodoGet Komodo for FREE
15 Best Free Screen Recorders
The best free screen recorders place minimal limits on the number and length of videos and give you access to tons of useful features. The top screencasting solutions include:
Ways to Use Screen Recording Tools
Curious how these apps could fit into your workflow? Some common use cases include:
1. Komodo
2. Loom
3. Screencastify
4. Vidyard
5. Sendspark
6. Scribe
7. Bubbles
8. Vmaker
9. Veed
10. Clip (for ClickUp)
11. Clips (for Slack)
12. ScreenPal
13. ScreenApp
14. ScreenRec
15. FlexClip\
1. Komodo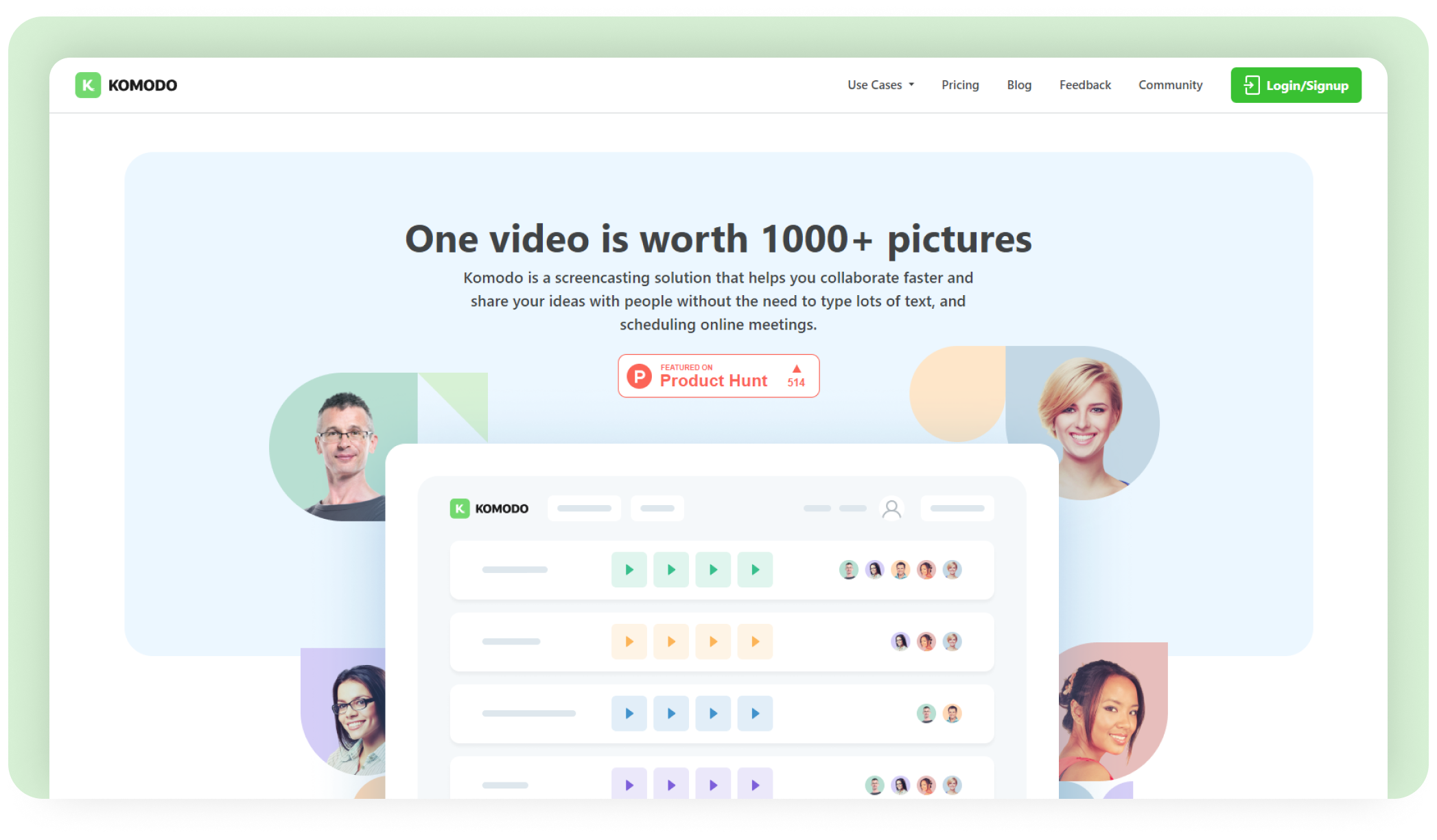 Ideal for sales enablement, product marketing, and customer success, Komodo records your screen, your webcam, or both via a Chrome extension. Komodo also has a downloadable Mac screen recorder that creates AI-powered transcriptions, allowing quick and easy dialog edits.
Need to walk a client through a process or create an SOP for your team? This free app also produces step-by-step guides that help you share knowledge and keep processes consistent.
How does Komodo stand out as one of the best screen recording software tools in a competitive category? After a successful AppSumo launch, the Komodo team took the opportunity to internalize all the new customer feedback, using it to build the product that users truly want.
Free features:
Allows unlimited video recordings with no time limit
Lets you create guides with up to 10 steps and share instantly
Subscription pricing:
Starting at $47.40 per year for custom branding and link expiration capabilities
Record your screen with KomodoGet Komodo for FREE
2. Loom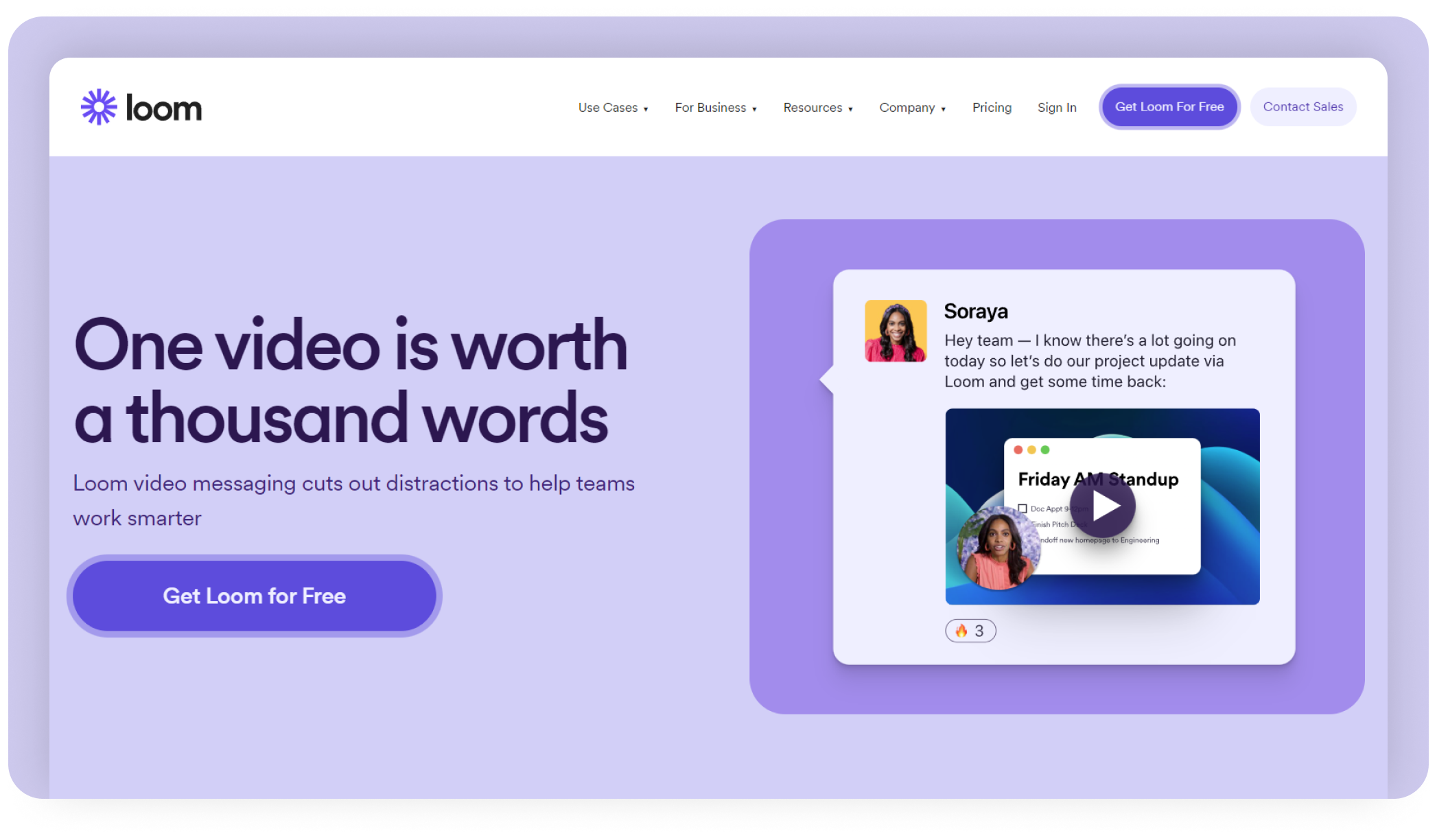 One of the most popular video recorders, Loom has a free desktop app, Chrome extension, and an Android and iOS screen recorder with basic editing tools. Engineered for async teamwork, Loom lets you share recordings and collect comments and feedback efficiently.
Free features:
Allows up to 25 videos up to 5 minutes long, but the video player displays Loom branding
Offers basic viewer insights so you can see who watched
Subscription pricing:
Starting at $150 per year for unlimited screen recordings and custom branding
3. Screencastify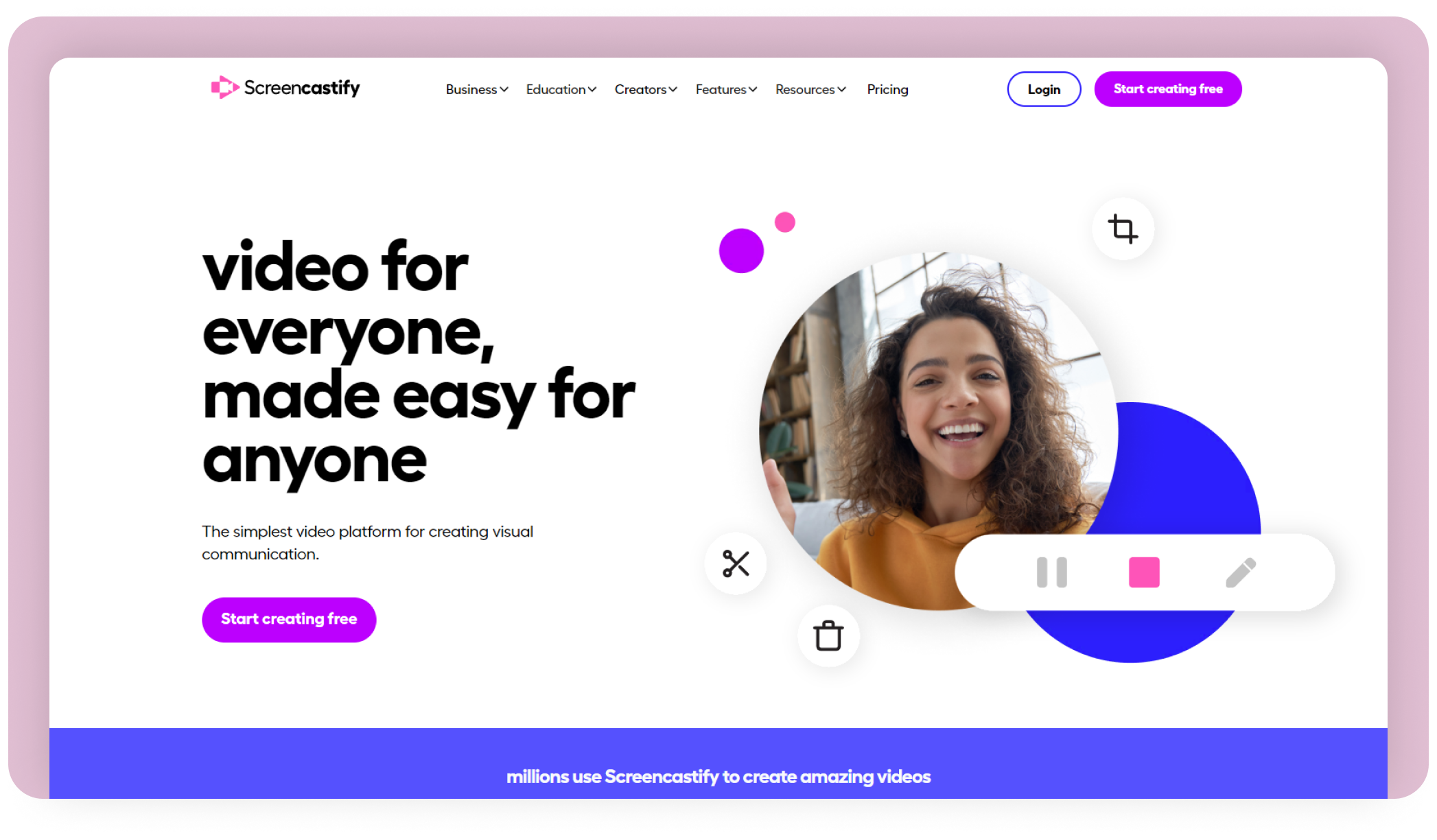 One of the best screen recorders for education, Screencastify includes video assignments and integrates with Google Classroom. To make video recordings interactive, the platform lets you add questions for viewers to answer.
Free features:
Allows up to 10 videos up to 30 minutes long
Provides 10GB of video storage
Subscription pricing:
Starting at $84 per year for unlimited recordings and exports
4. Vidyard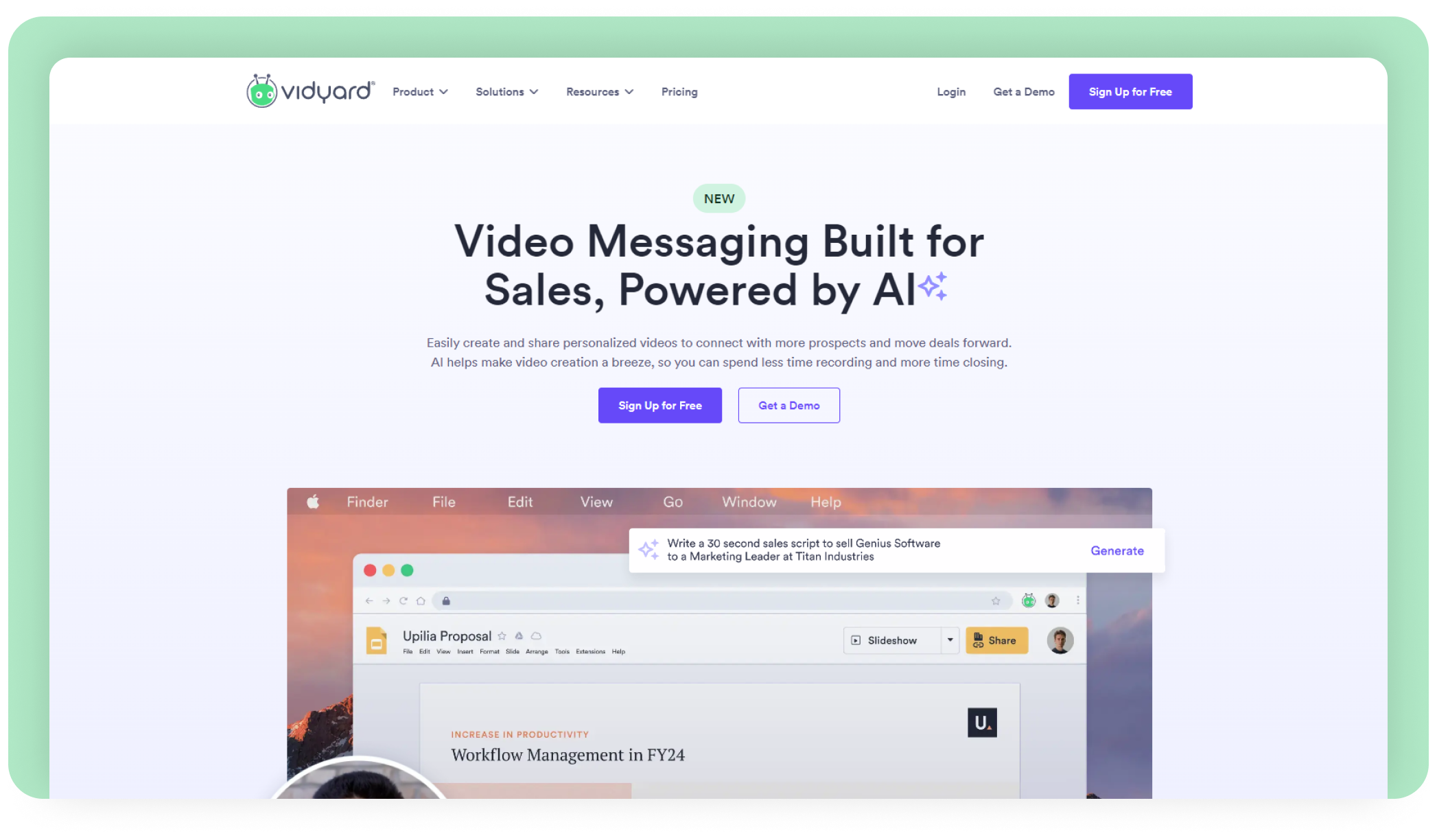 As a sales messaging tool, Vidyard is best for sending personalized sales outreach. The free version includes basic editing tools and supports both link sharing and video embeds. It also offers view counts and notifications to help your lead nurturing processes.
Free features:
Allows up to 25 videos up to 30 minutes long
Works as a Chrome extension, a desktop app, and an iOS and Android screen recorder
Subscription pricing:
Starting at $228 per year for unlimited videos, CTAs, and insights
5. Sendspark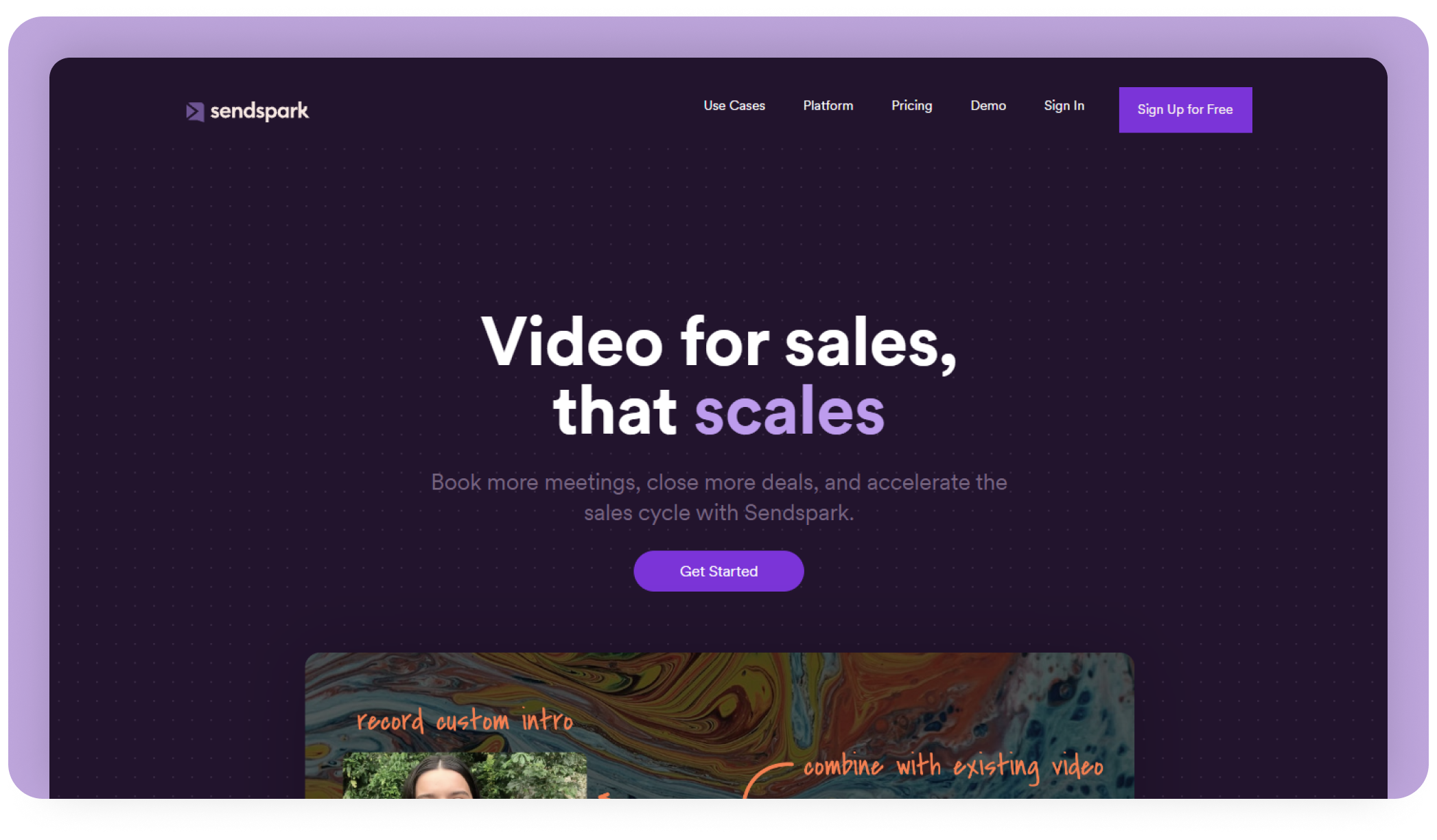 Another sales-focused video capture tool, Sendspark speeds up the sales cycle by adding a human touch to outreach messaging. This free app is designed to personalize outreach at scale, letting you mix and match video clips to create outbound messaging that resonates.
Free features:
Allows up to 30 videos, but they include watermarks
Lets you request videos from colleagues
Subscription pricing:
Starting at $144 per year to add CTAs and branding
6. Scribe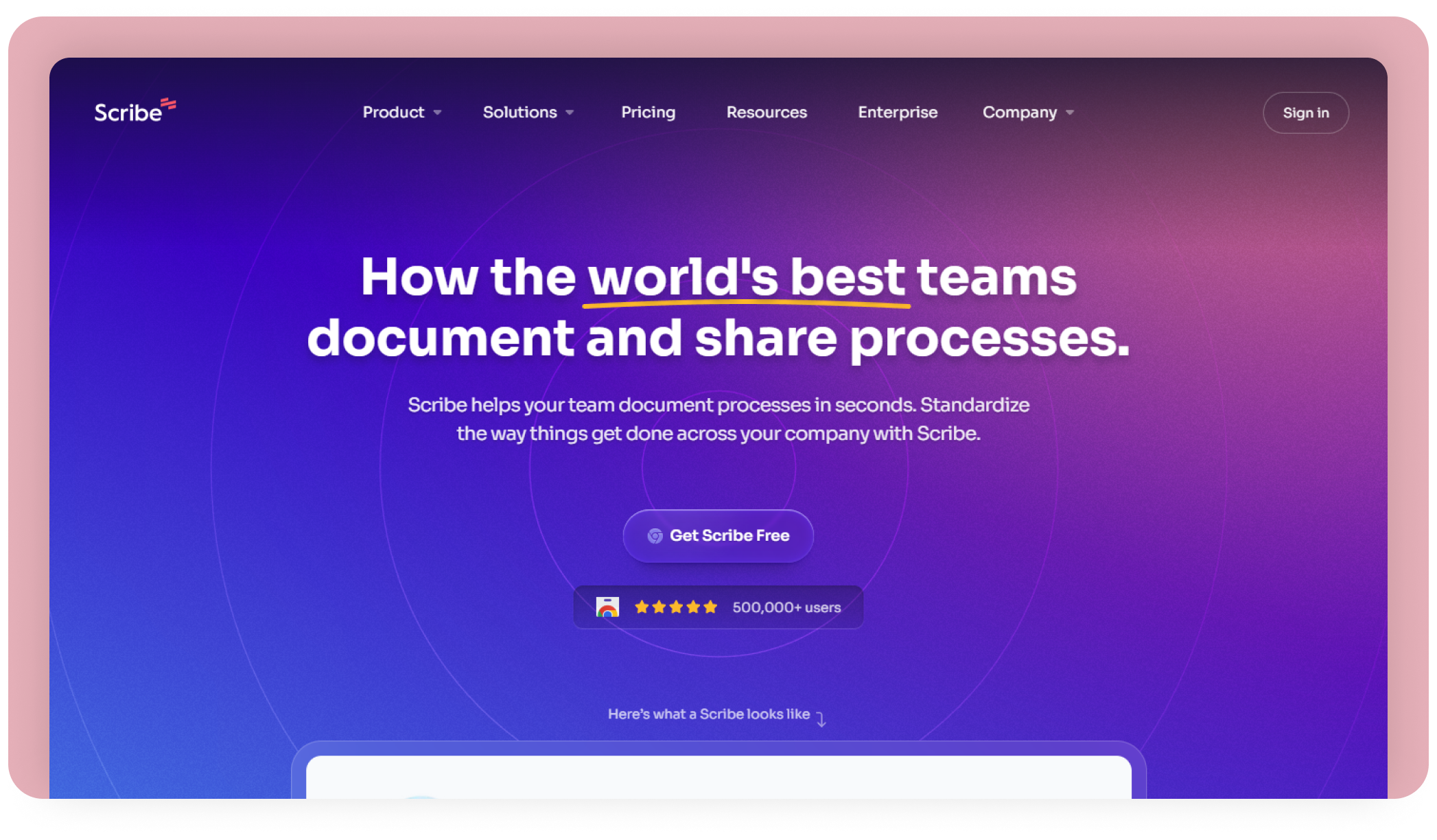 Designed for documentation, Scribe is a web browser-based tool that records your screen and turns the video into a step-by-step process. It's ideal for staff training, product walkthroughs, and SOPs.
Free features:
Lets you share via a link, embed in a wiki, or export to a PDF
Includes basic text and step editing tools
Subscription pricing:
Starting at $144 per year for custom branding and desktop captures (with a five user minimum)
7. Bubbles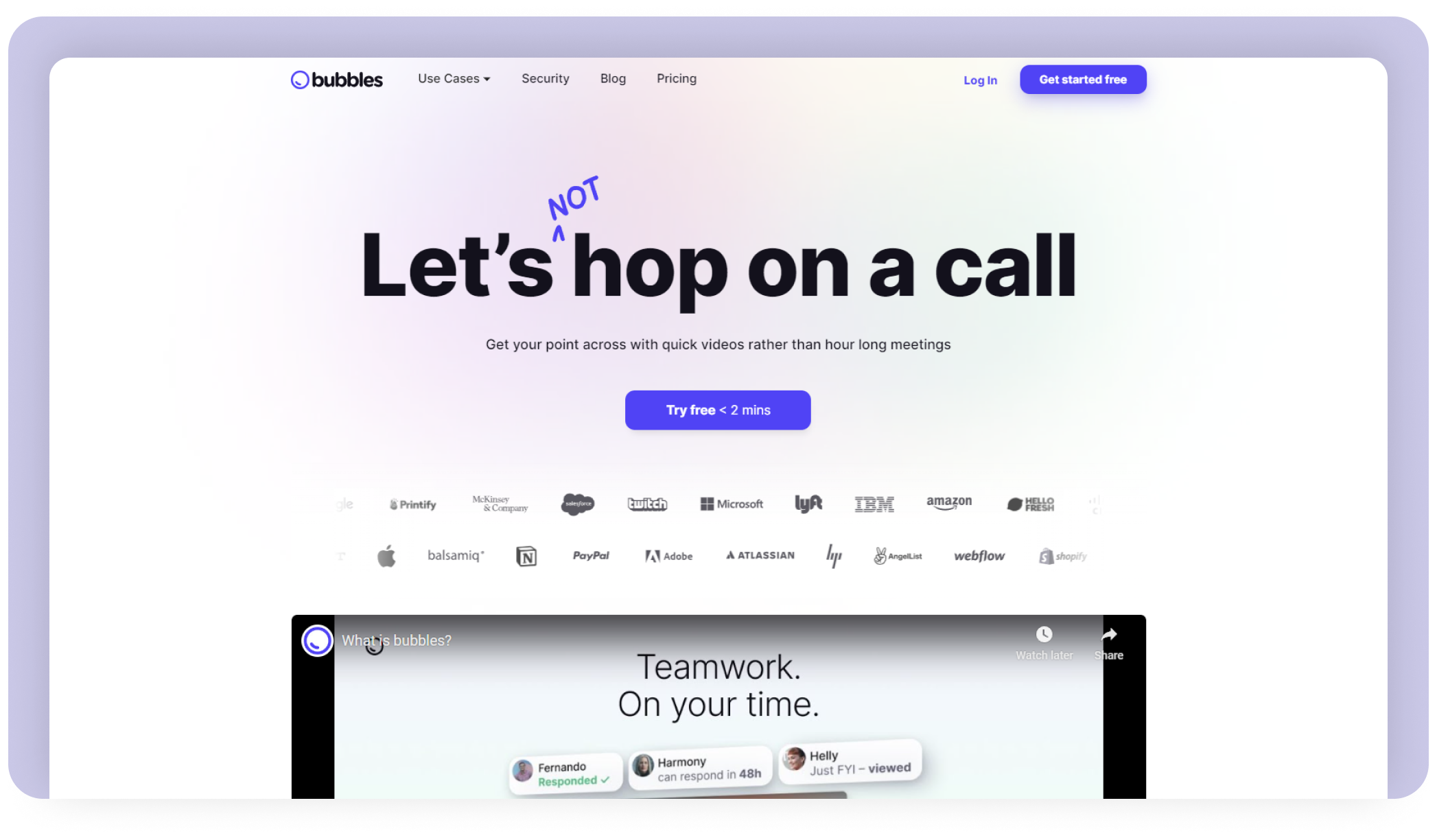 One of the best free screen capture tools with unlimited recordings, Bubbles creates video walkthroughs with voice annotations. This Chrome screen recorder is designed for async collaboration, and it can send reminders to colleagues to ensure you get the feedback you need.
Free features:
Allows unlimited video recordings at up to 30 minutes each
Supports video uploads so you can share with your team
Subscription pricing:
Starting at $96 per year for video downloads and AI-generated transcripts
8. Vmaker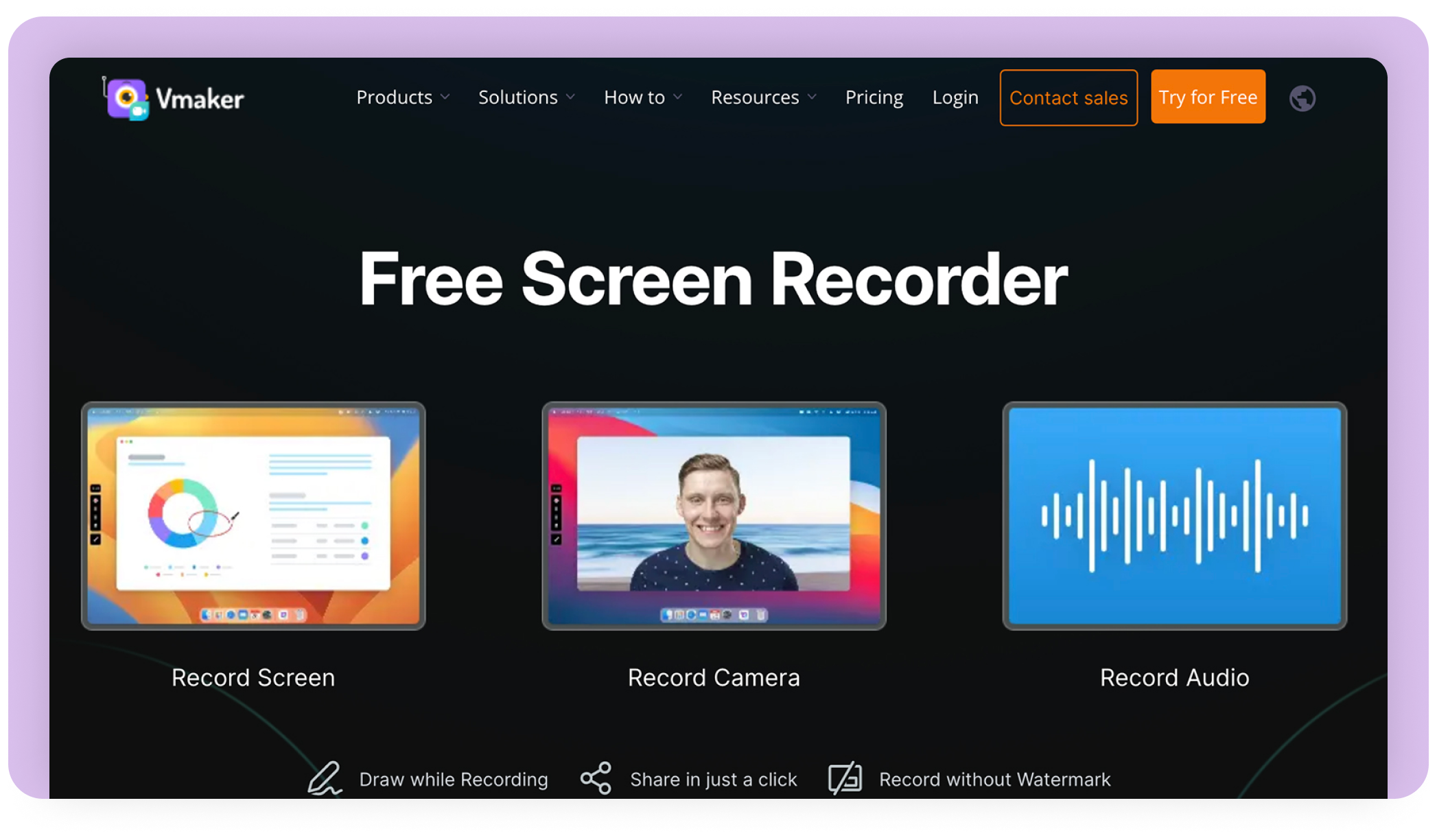 With its annotation tools, Vmaker works well for highlighting on-screen elements and explaining complex concepts. This free video capture tool also records webcams and audio and allows link-based video sharing.
Free features:
Has Chrome, Windows, and Mac screen recorders
Supports dual-screen video capture
Subscription pricing:
Starting at $84 per year for scheduled recordings andself-destructing videos
9. Veed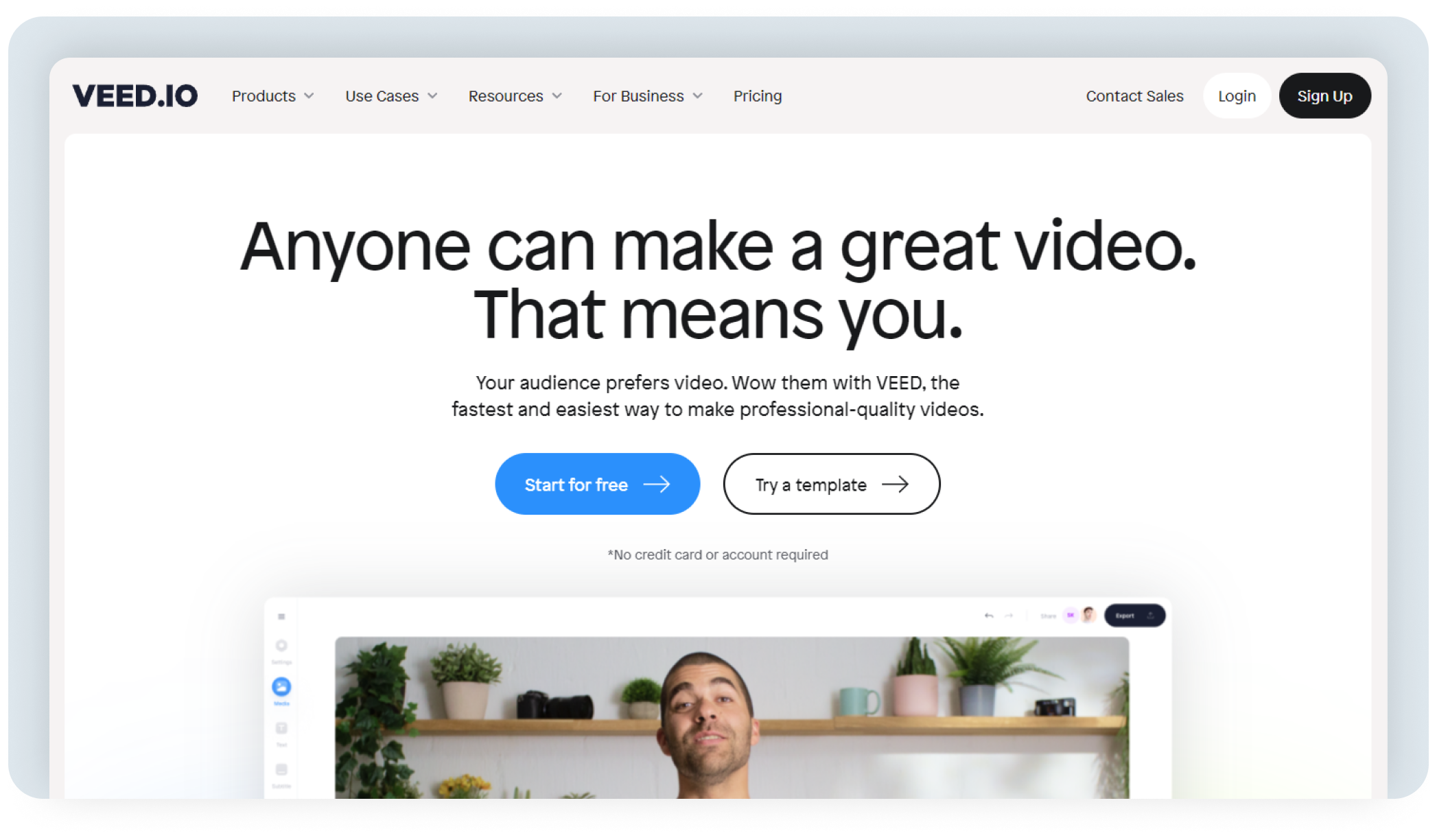 A popular video editor and transcription tool, Veed has free video recording software with simple editing tools. With the Chrome extension, you can record your webcam or screen and use Veed's AI-powered eye contact correction tool to add a professional touch to your videos.
Free features:
Allows videos up to 10 minutes long
Provides up to 30 minutes of subtitles per month
Subscription pricing:
Starting at $216 per year for watermark removal and high-resolution video exports
10. Clip (for ClickUp)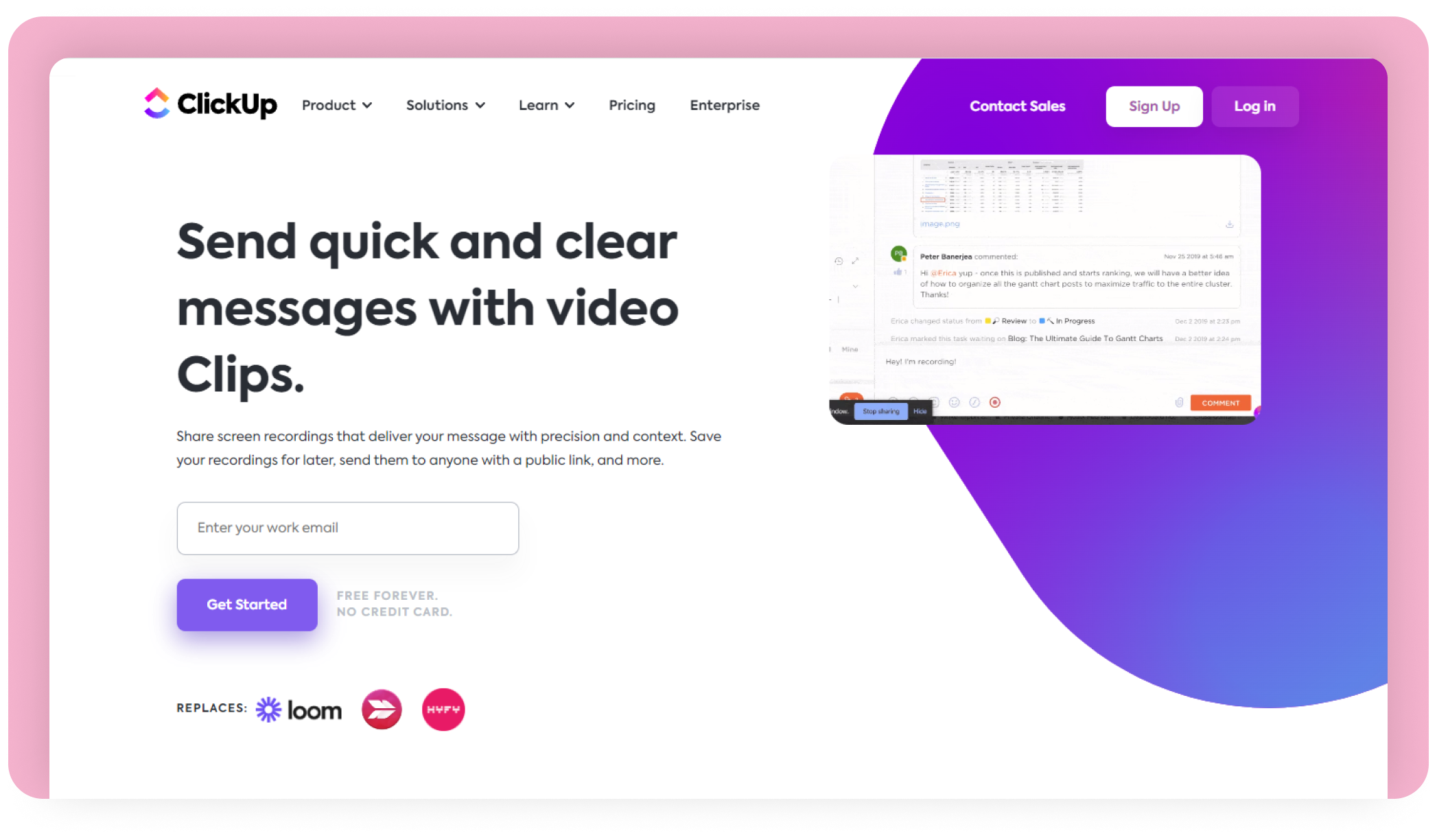 As a ClickUp app, Clip works within the project management app only. If you're already a ClickUp user, this screen recorder is easy to add to your workflow. ClickUp can turn screen recordings into tasks in a couple of clicks, which means Clip has the potential to save you a ton of time.
Free features:
Records screens and audio but not webcams
Allows sharing directly in ClickUp tasks and chats
Subscription pricing:
Starting at $84 per year for advanced ClickUp features like unlimited dashboards and integrations
11. Clips (for Slack)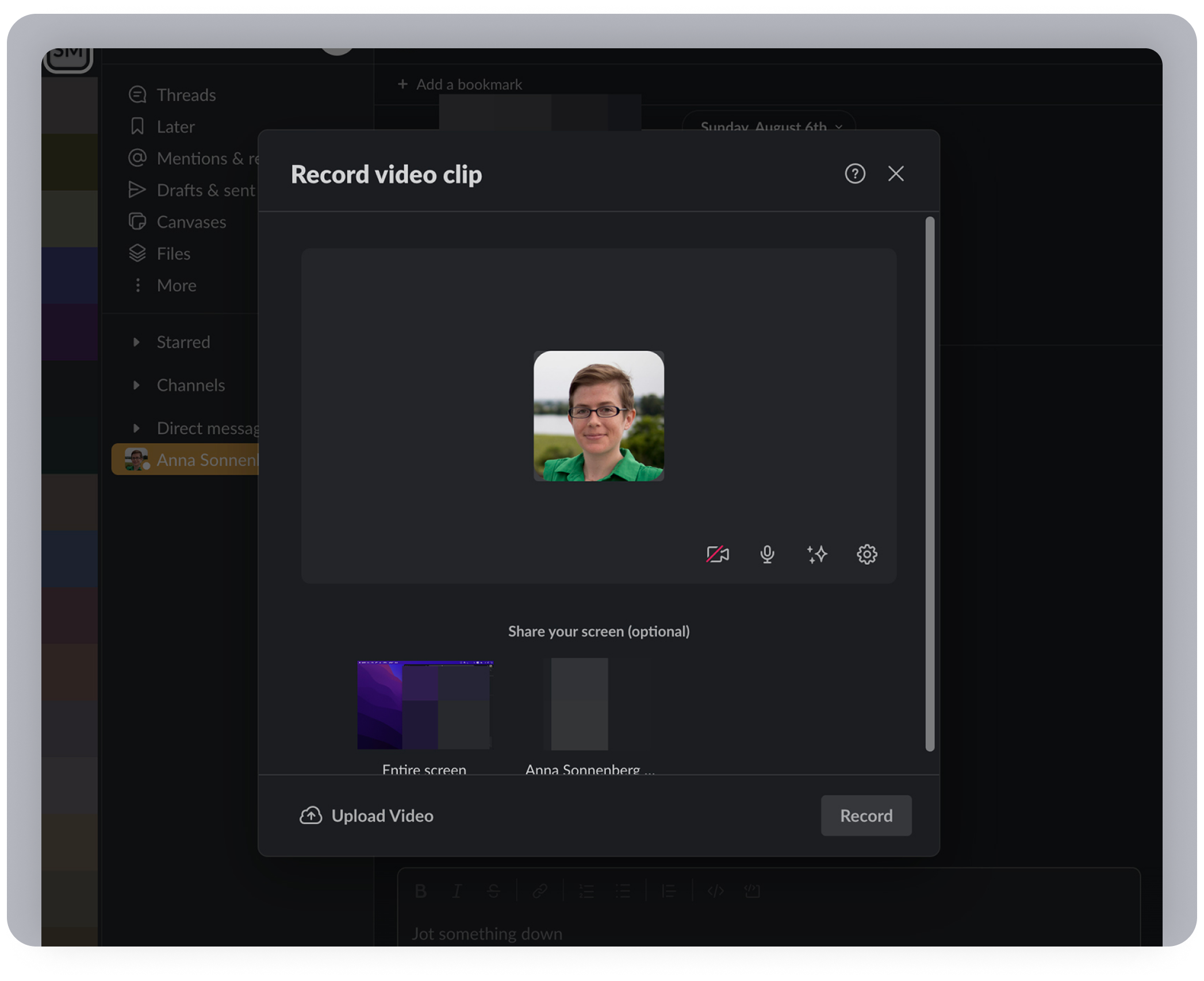 Similar to Clip for ClickUp, Clips for Slack works in the communication app only. Clips can record your screen and your webcam, making it ideal for sending a quick message to a client or colleague. When you're finished recording, you can send the video directly in Slack.
Free features:
Allows unlimited video recording and sharing
Supports custom webcam backgrounds and video thumbnails
Subscription pricing:
Starting at $87 per year for advanced Slack features like unlimited apps and huddles
12. ScreenPal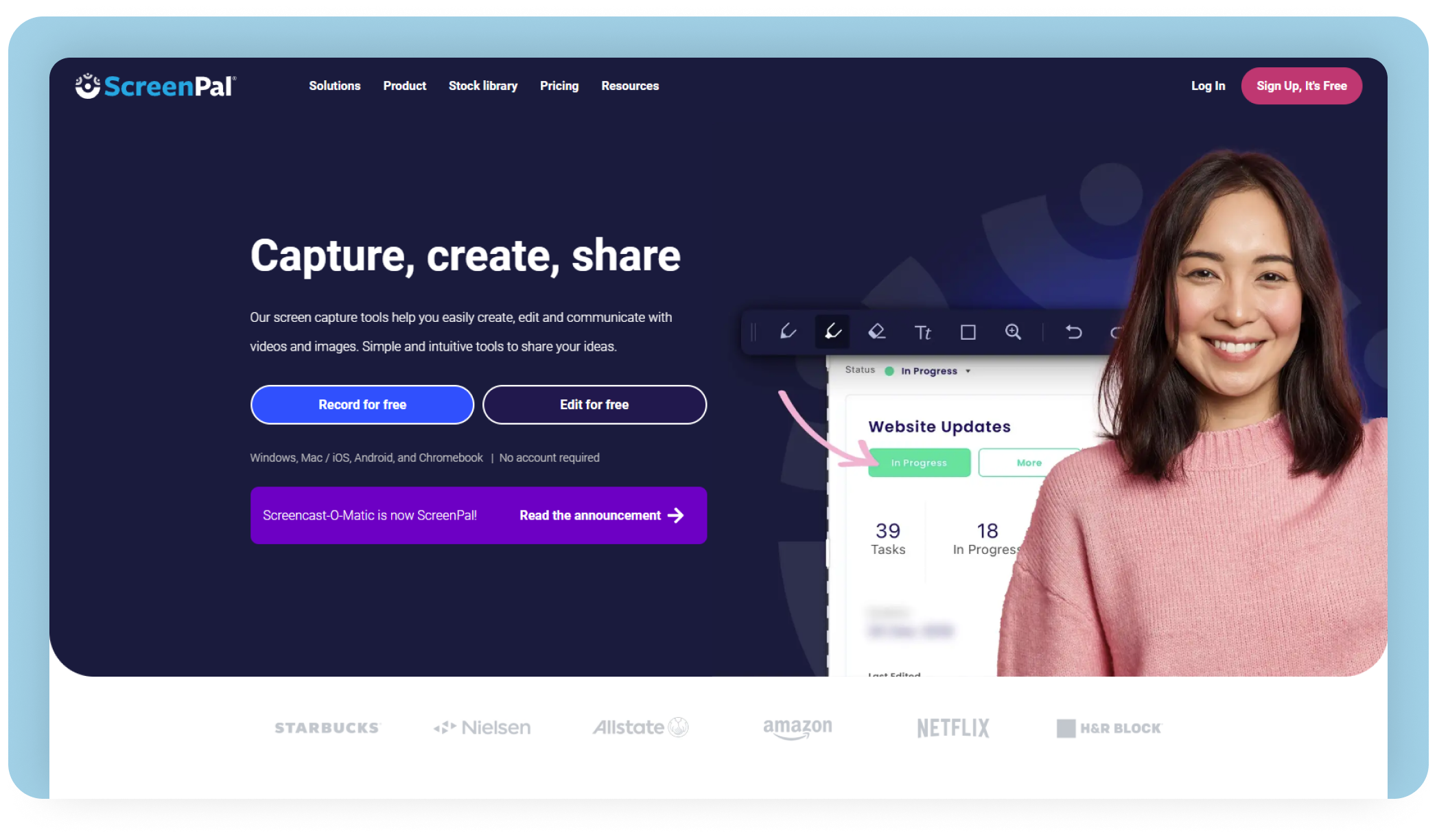 ScreenPal (formerly Screencast-o-Matic) is one of the few screen recording apps that offers relatively advanced editing tools with the free version. You can annotate videos, add overlays, and edit audio without upgrading to a paid plan. The catch? The free version of ScreenPal has watermarks.
Free features:
Lets you record and edit videos up to 15 minutes long
Allows video embeds and expiring links
Subscription pricing:
Starting at $36 per year for tools like storyboards and green screens
13. ScreenApp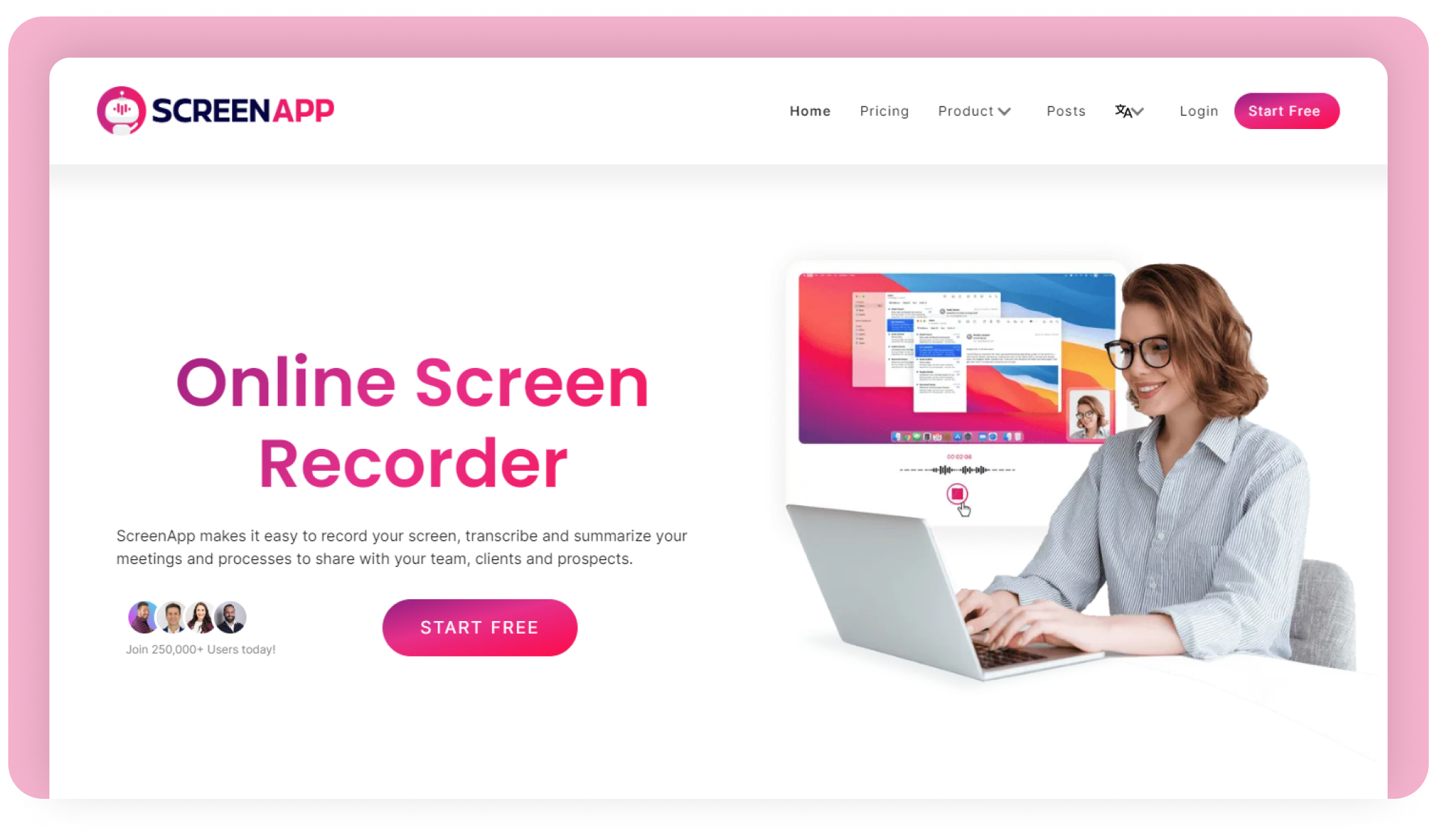 Whether you need to create screen captures or request them from colleagues or clients, ScreenApp can manage both. This free browser-based tool also has AI-powered transcription capabilities, making it helpful for processing meetings and presentations.
Free features:
Allows unlimited video recordings, but you can only store 10 in the cloud
Includes unlimited video requests and AI audio transcriptions
Subscription pricing:
Starting at $180 per year for priority transcriptions and ChatGPT credits
14. ScreenRec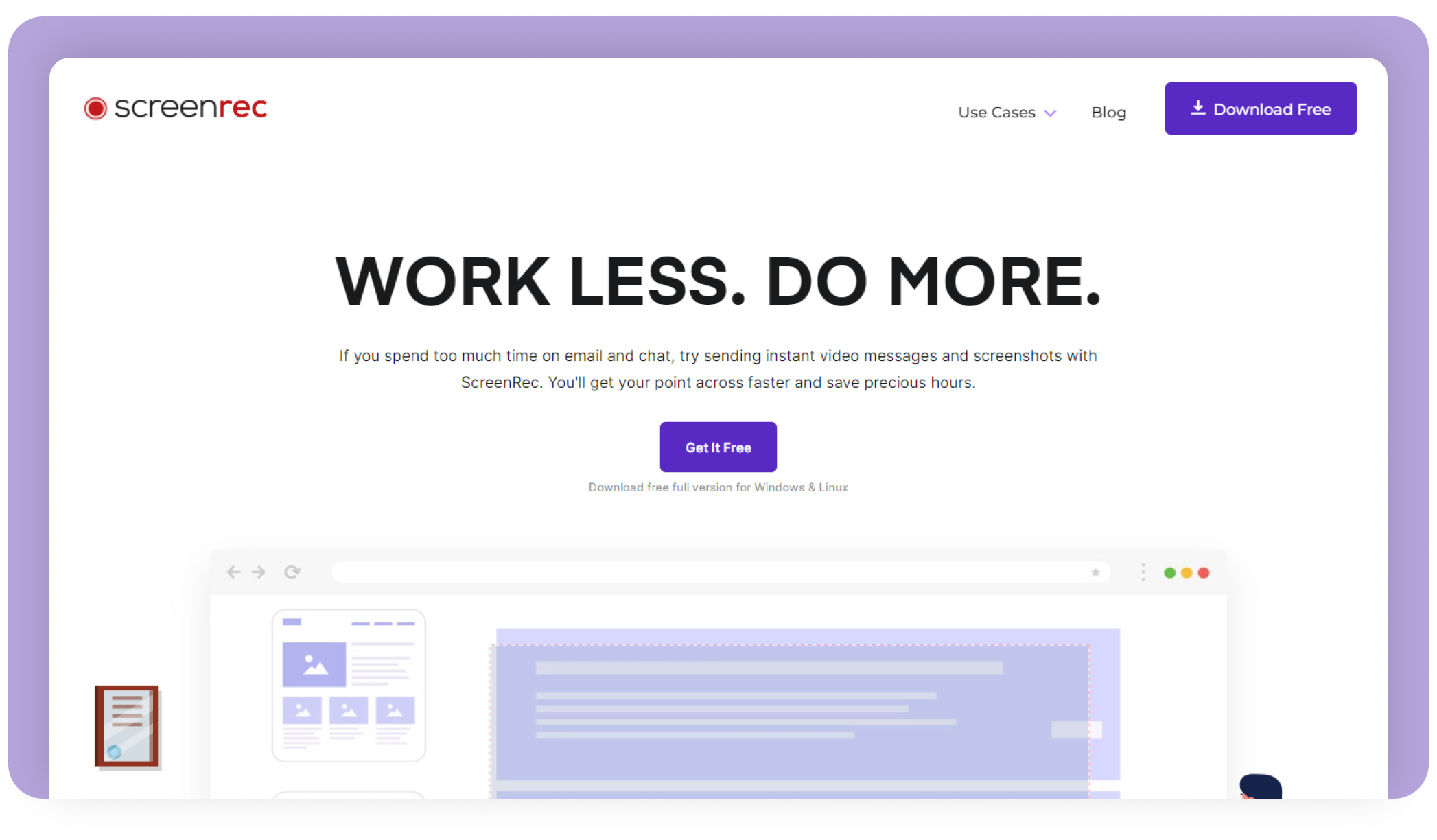 The only completely free tool on this list, ScreenRec doesn't have paid subscription tiers. Users get full access to everything this simple Mac and Windows screen recorder does, including capturing your screen, webcam, and audio.
Free features:
Allows video exports and sharing via links
Can record videos offline or online
Subscription pricing:
No paid subscriptions (i.e., free forever)
15. FlexClip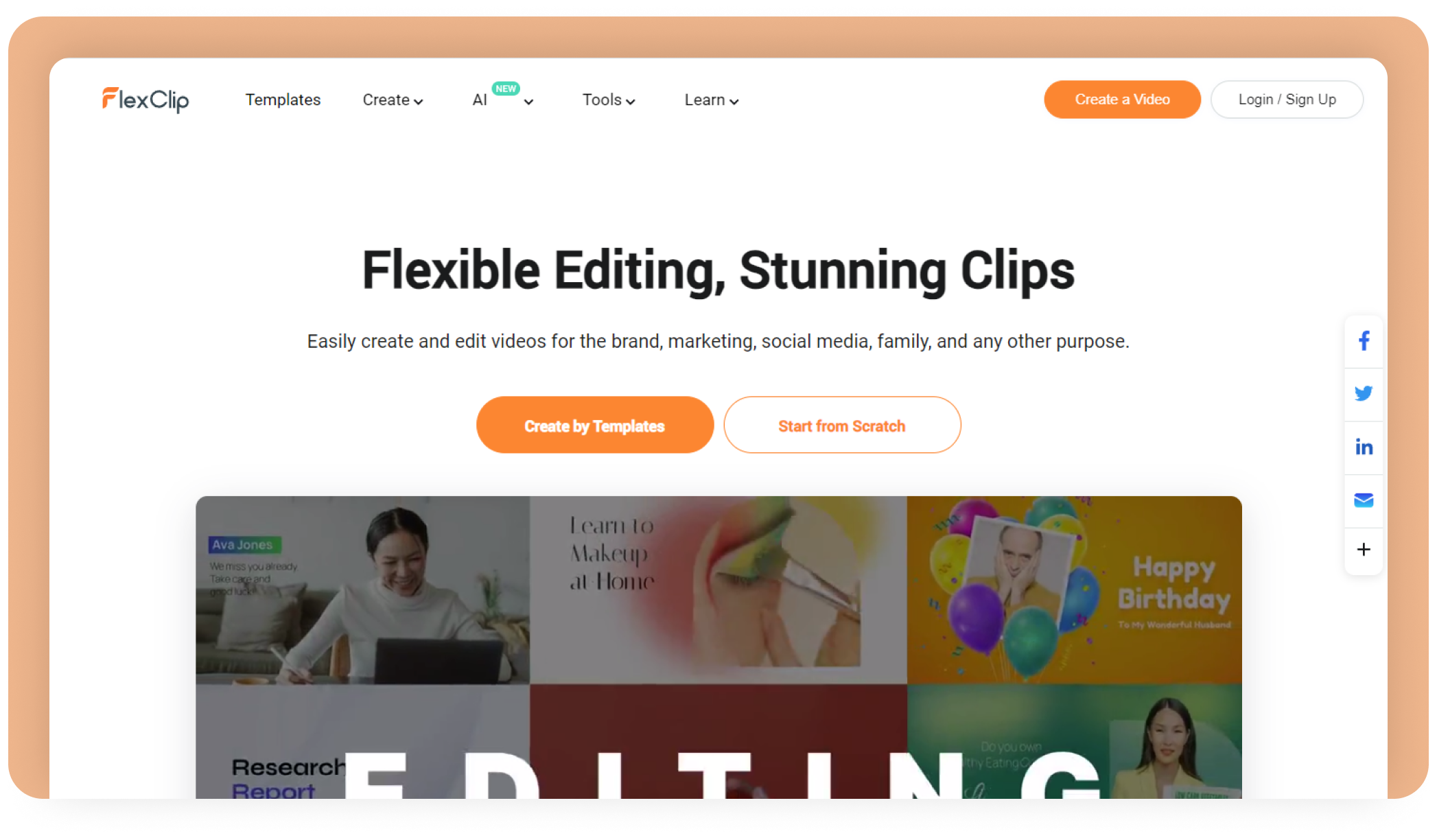 As one of the simplest screen recorders, FlexClip produces videos directly from your web browser—no need to download an app or install an extension. In addition to recording your screen or webcam, this app allows photo and video uploads and includes editing tools like text overlays.
Free features:
Allows up to 12 videos with a 10-minute limit
Includes stock audio and video and AI text-to-video credits
Subscription pricing:
Starting at $119.88 per year for watermark-free videos andhigh-resolution downloads
Get started with the best free screen recording software
Whether you want to send a quick client update, share feedback with a colleague, or record a step-by-step guide, Komodo has the free screen recording tools you need. Install the Komodo Chrome extension and start creating in minutes.
Get Unlimited Recordings with KomodoGet Komodo for FREE
About the author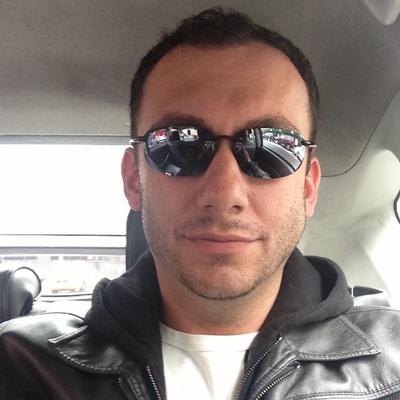 Khanan Grauer
Founder and CEO of Komodo
Khanan Grauer is the founder and CEO of Komodo and TouchApp Media, a design and development studio that brings mobile software to market. He has over 15 years of experience leading software teams and he's passionate about building products that improve communication across time zones.