9 Best Unbounce Alternatives: Comparing Landing Page Builders
Anna Sonnenberg
Nov 17, 2023
For many marketers and advertisers, Unbounce is a top pick for building landing pages. As a conversion intelligence platform with optimization and generative AI tools, it's a solid choice for those who want an all-in-one option.
Yet it can be overkill for users who need a simpler landing page solution. And Unbounce's traffic-based pricing can also be unworkable for those who don't want to deal with capacity caps.
So what's a better option? In this article, we'll cover nine Unbounce alternatives worth considering if you need an easier and more affordable tool to create landing pages.
What is Unbounce?
Unbounce is a landing page builder that's designed to drive leads and sales. With its drag-and-drop builder, you can create completely custom pages for your business. But you don't necessarily need design or coding skills to use this platform.
You can plug your creatives and copy into Unbounce's 100+ templates to create an optimized landing page in a few minutes. Or you can work even faster with the platform's Smart Builder feature, which has pre-optimized templates and generative AI copy (aka Smart Copy).
Unbounce also functions as a conversion intelligence platform. It offers unlimited A/B testing along with a Smart Traffic feature that analyzes traffic and sends visitors to the optimal version of the page automatically.
To increase conversions, the platform has a range of built-in features and integrations. You can add Unbounce popups and sticky bars to your landing pages or integrate your choice of dozens of marketing and analytics apps.
Who is Unbounce for?
While Unbounce is geared toward small business users in general, it's best for marketers and advertisers in these spaces:
Ecommerce businesses aiming to boost conversion rates by driving customers to tailored landing pages rather than storefronts.
SaaS companies that want to get more free trials, booked demos, and subscriptions without having to code custom landing pages.
Service providers that run paid search ads and need on-brand landing pages for quotes and contact forms.
Agencies that manage conversion rate optimization (CRO), paid search, or social ads and need a simple landing page solution for clients.
How much does Unbounce cost?
Unbounce has four pricing tiers, all of which include unlimited landing pages. The most basic plan (Launch) starts at $99 per month, while the top-tier plan (Concierge) starts at $625 per month.
While higher priced tiers do include additional features, the main difference between Unbounce's subscription levels is their capacity. Launch supports up to 20,000 visitors and 500 conversions, while Concierge allows 100,000+ visitors and 5,000+ conversions.
When and why should you consider an Unbounce competitor?
As a go-to tool for high-converting landing pages, Unbounce is one of the most popular options in this category. But it certainly isn't right for everyone. It's worth trialing an alternative to Unbounce if you:
Plan to drive a lot of traffic. Since traffic numbers factor heavily into Unbounce pricing, it may be less ideal for use cases like always-on search campaigns.
Have a limited budget. Unbounce is far from the cheapest page builder, and it doesn't have a free version—making it a tough sell for bootstrapped businesses.
Need complex designs. Although Unbounce's page templates can save time and hassle, Capterra reviewers report that they aren't very flexible and can be tough to sync across desktop and mobile.
Rely on seamless integrations. Unbounce has dozens of integrations, but G2 reviewers report that the platform doesn't work consistently with content management systems or CRMs—which can lead to headaches.
9 Best Unbounce alternatives for building landing pages
Which landing page builders offer more simplicity, added design flexibility, or a better pricing model? Try these instead.
1. Komodo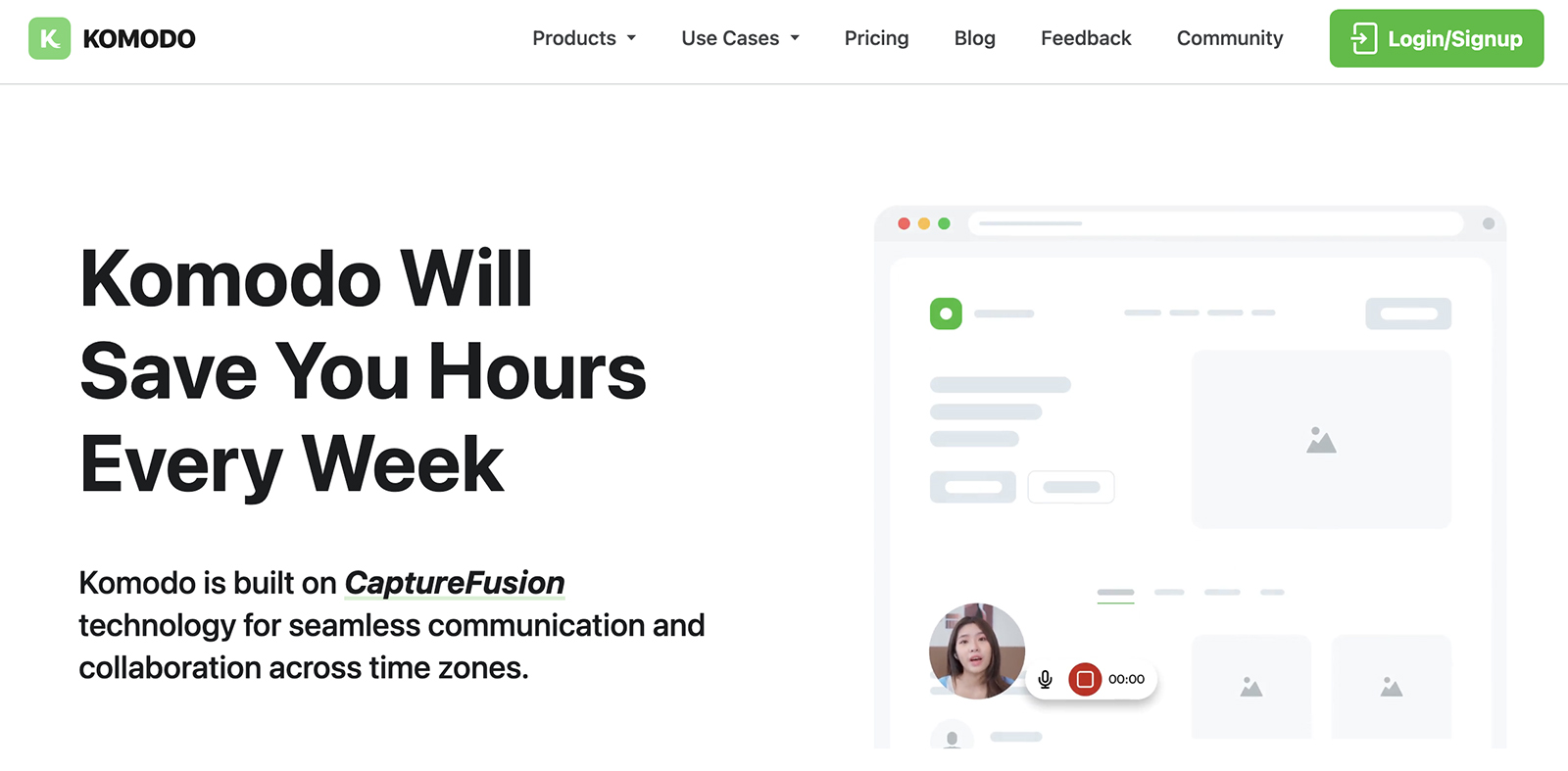 Komodo is a screen recording tool with a native page builder. It's ideal for creating custom landing pages for video messages, sales outreach, product demos, training documents, or classroom lessons.
With Komodo's CaptureFusion technology, you can capture your webcam and screen. Then you can fuse your ideas together using the platform's web-based video editor and page builder.

Komodo's page builder puts your video recordings front and center and adds branding to make the content yours. You can build on this foundation by inserting elements like text or images to provide more details or context.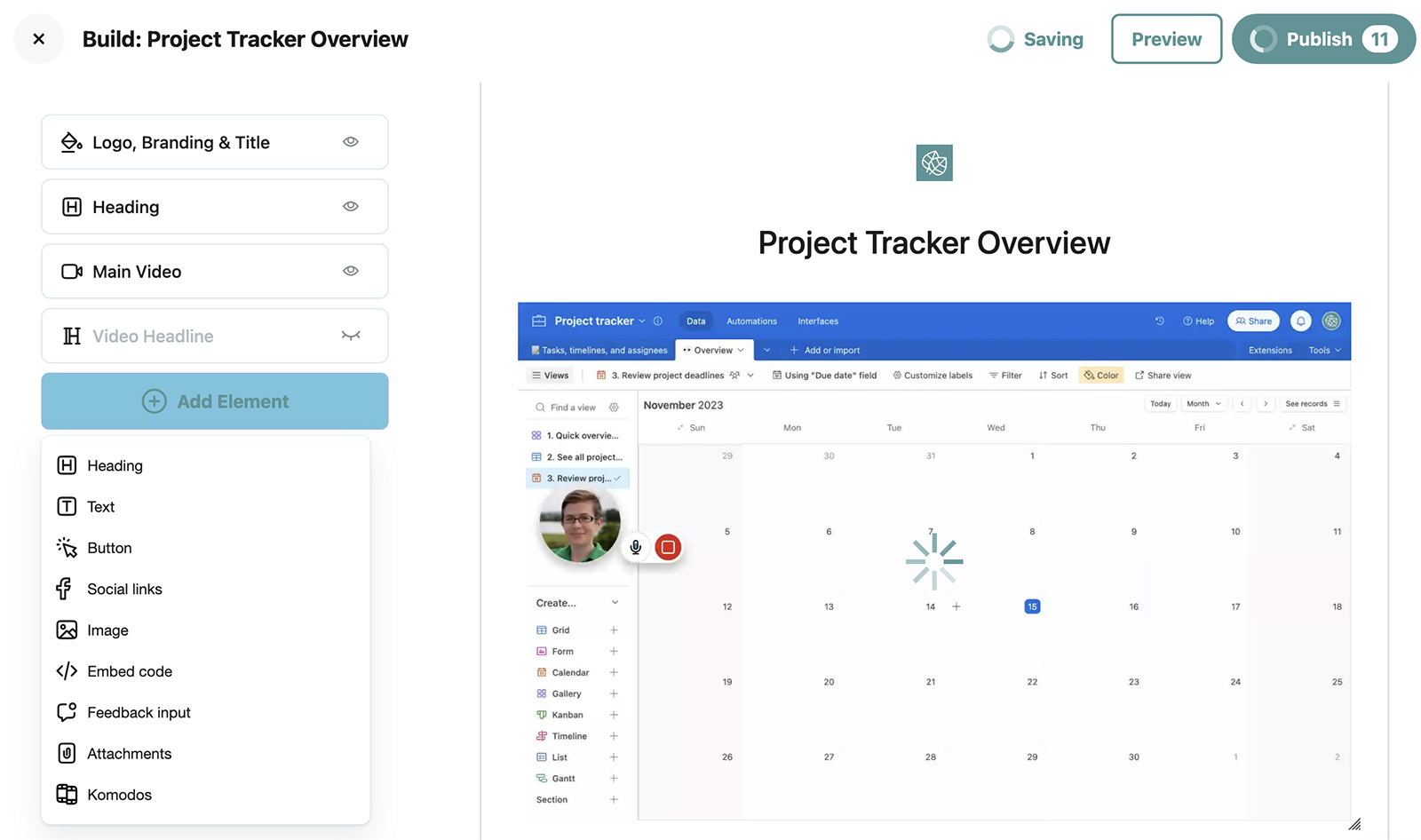 The page builder supports multiple Komodos, so you can create custom video libraries for prospects, customer segments, or colleagues. To point viewers toward external resources, you can add attachments. You can also add call-to-action buttons to prompt viewers to take a next step.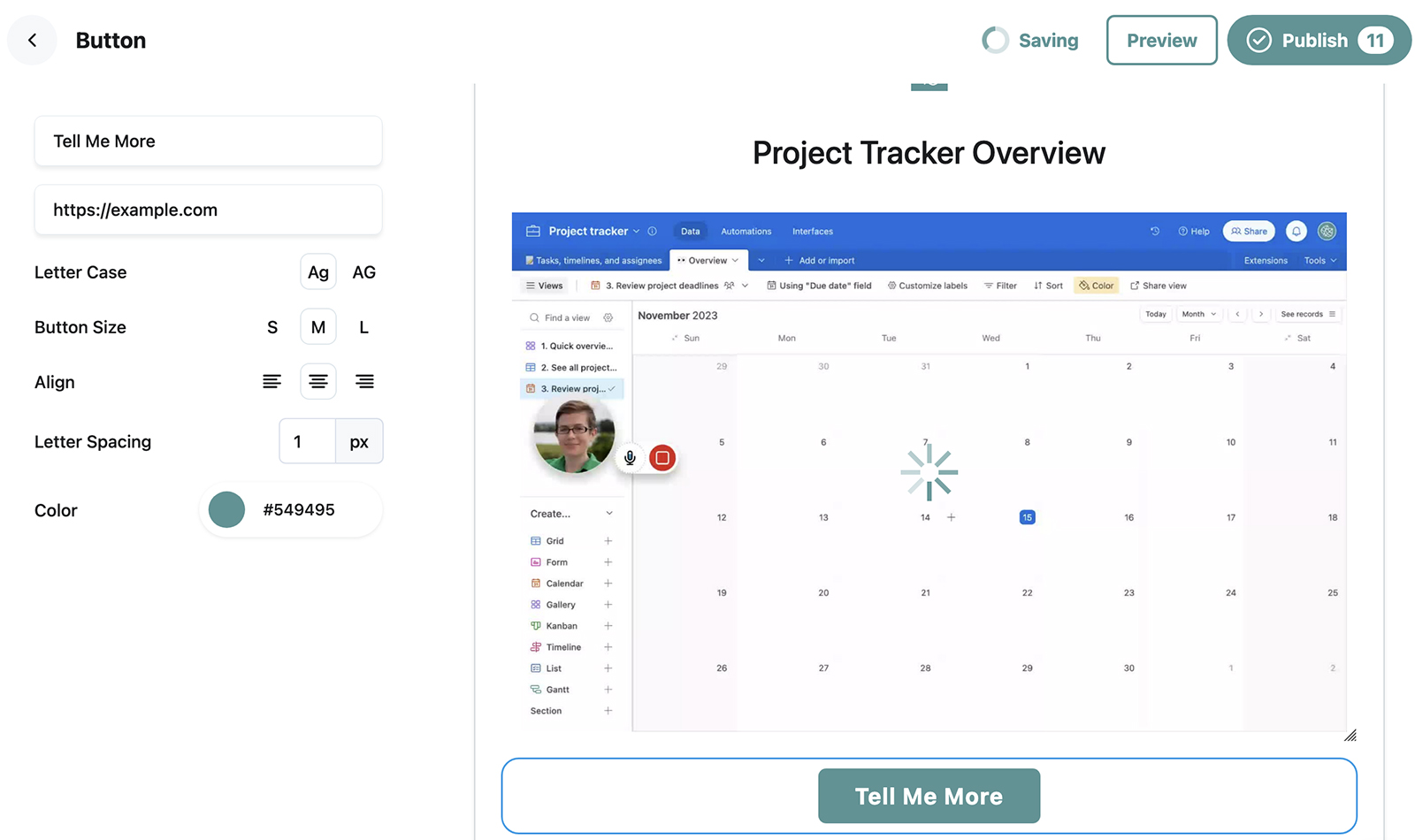 You aren't limited to Komodo's built-in tools and media. The embed feature supports lead generation forms, social media posts, and virtually any other embeddable content.
Once you publish a landing page with Komodo, you can use the platform's native analytics to track results. Since you can see both viewer numbers and names of logged-in viewers, you can monitor who's seen your content—and follow up accordingly.
What Komodo does better
Komodo can manage the entire creative process, from capture to fusion to publication. With its screen recorder, video editor, and page builder, it can eliminate the need for separate tools and simplify your tech stack.
If you're concerned about the high cost of Unbounce, Komodo also comes out ahead. Its individual and team plans are both priced significantly lower than any Unbounce tiers—and there's no traffic limits to worry about.
Where Unbounce comes out ahead
Komodo doesn't have the template library, A/B testing tools, or AI-powered optimization features that Unbounce does. If you're looking for a platform that can analyze site visitors and optimize pages automatically, a dedicated landing page builder and conversion intelligence platform like Unbounce is a better fit.
Komodo pricing
With plans starting at $7 per month, Komodo is easily one of the most affordable tools on this list. Team plans with collaboration tools and shared workspaces start at $35 per month for five users. wKomodo's free plan includes access to the page builder but you're limited to creating only 3 custom pages each month.
2. Leadpages

More than just a landing page builder, Leadpages is a complete lead generation platform. It has a built-in CRM and conversion tools, and all plans include 250+ optimized landing page templates—making it great for marketers who have limited website design skills.
What Leadpages does better: Leadpages doesn't limit landing page traffic or conversions, no matter which plan you choose. If you intend to run large-scale marketing campaigns and don't want to worry about usage limits, Leadpages is a better choice.
Where Unbounce comes out ahead: While Leadpages has AI-powered copy and image tools, Unbounce has more advanced AI and automation capabilities. If you want to build, write, and optimize landing pages automatically, Unbounce is a better investment.
Leadpages pricing: Standard plans start at $49 per month, including 10,000 AI Engine credits and one custom domain. Pro plans start at $99 per month for 30,000 AI Engine credits, three custom domains, and ecommerce functionality.
3. Instapage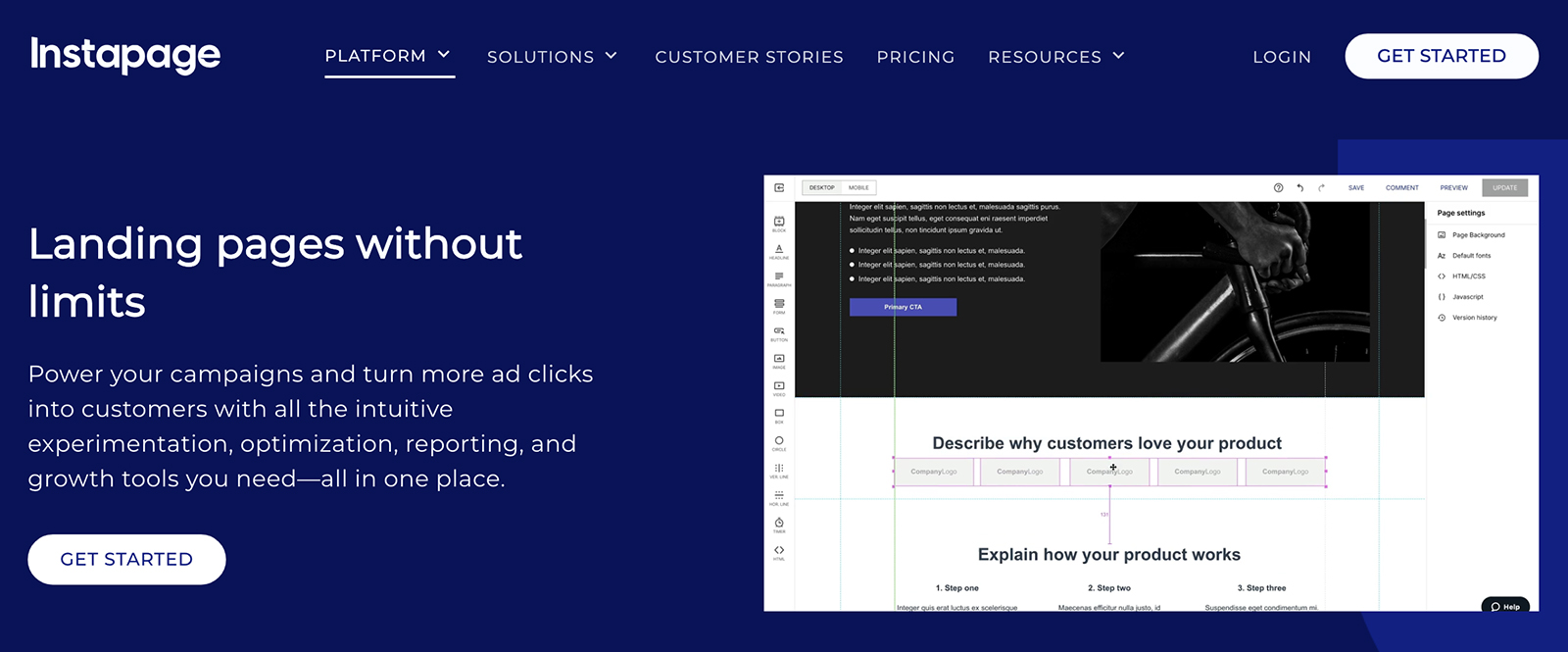 Instapage is an intuitive landing page builder with AI content generation tools, personalization features, and A/B testing. It's ideal for PPC, as its dynamic text replacement and AdMap technology automatically create better experiences for leads and customers.
What Instapage does better: Instapage doesn't cap conversions—unlike Unbounce, which limits both traffic and conversions on each plan. All Instapage plans include unlimited conversions, making it a smarter pick for bigger campaigns.
Where Unbounce comes out ahead: Unbounce offers AI-powered optimization and insights with each plan. In contrast, Instapage's AI experiments tool is included in the platform's top-tier plan only.
Instapage pricing: With plans starting at $299 per month, Instapage is easily the most expensive tool on this list. While the basic plan includes most features, you'll need to upgrade to the top-tier plan (contact sales for pricing) for AI experiments and custom design elements.
4. Landingi

A no-code builder, Landingi creates microsites and landing pages with integrated lead generation forms and event tracking. It has 170+ integrations, making it easy to add to your marketing, ecommerce, webchat, and analytics tech stack.
What Landingi does better: If cost is a concern, Landingi is the clear winner. Its capabilities are similar to Unbounce, but it supports far more website traffic at a fraction of the cost.
Where Unbounce comes out ahead: While Landingi does have an AI-powered builder and A/B testing, but its optimization tools aren't as advanced as Unbounce's. If you want a tool that optimizes your landing pages automatically, go with Unbounce.
Landingi pricing: Like Unbounce, Landingi uses traffic-based pricing. Lite plans start at $29 per month for 5,000 visits per month, while the Unlimited plan starts at $1,000 per month.
5. ClickFunnels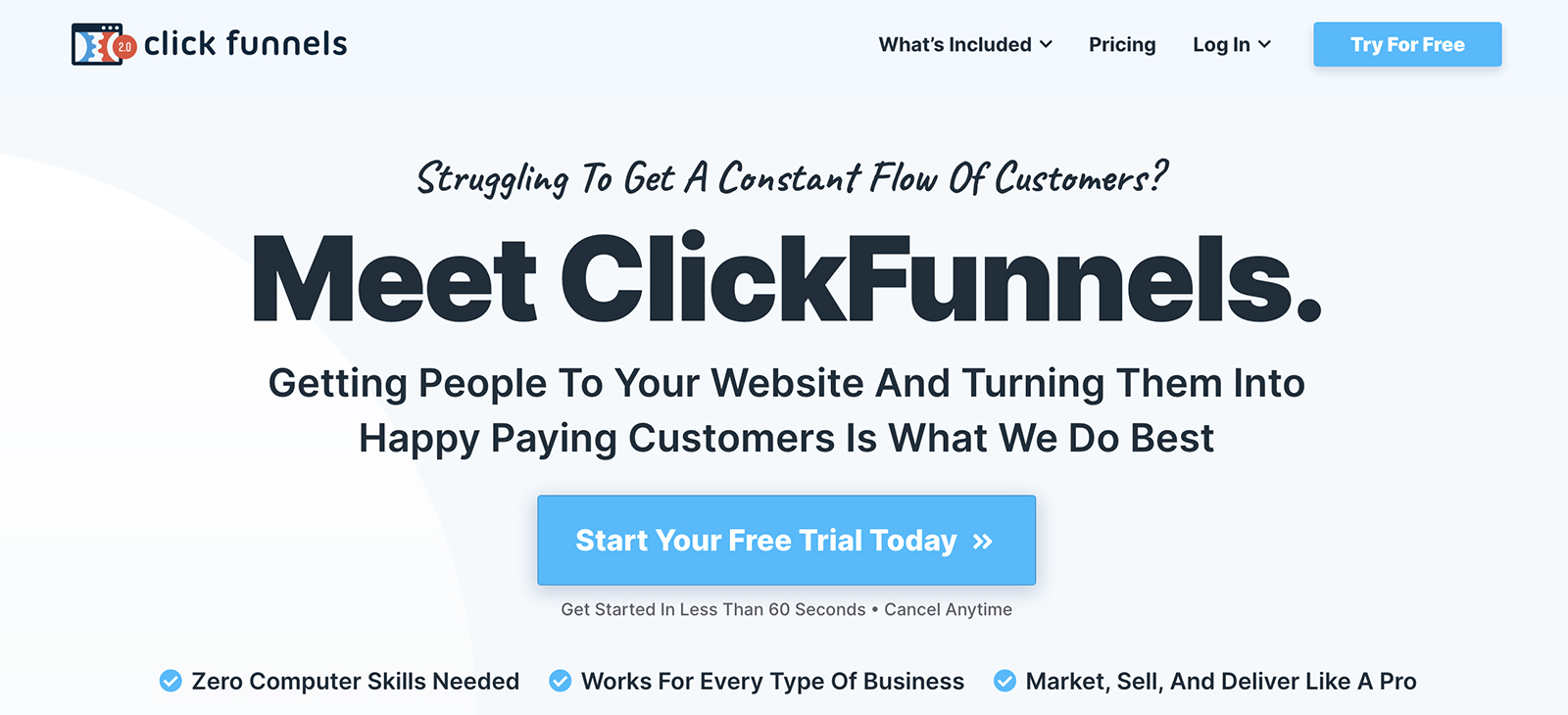 ClickFunnels is a page builder that focuses on funneling leads toward conversions—often with built-in upsells. It's designed to create sales pages for social media and paid search traffic, and it's best for ecommerce sellers, course creators, and membership site owners.
What ClickFunnels does better: ClickFunnels is a complete ecosystem with its own website builder, community solution, CRM, and email marketing tools. If you want a fully integrated setup with landing page capabilities, ClickFunnels offers more value.
Where Unbounce comes out ahead: If you don't need all those extra tools, Unbounce is a better option. However, you'll want to make sure it integrates with your CRM and marketing tools before committing.
ClickFunnels pricing: ClickFunnels uses capacity-based pricing. Basic plans start at $147 per month and include 20 funnels and 10,000 contacts. Top-tier Funnel Hacker plans start at $497 per month and include unlimited funnels and 200,000 contacts.
6. Swipe Pages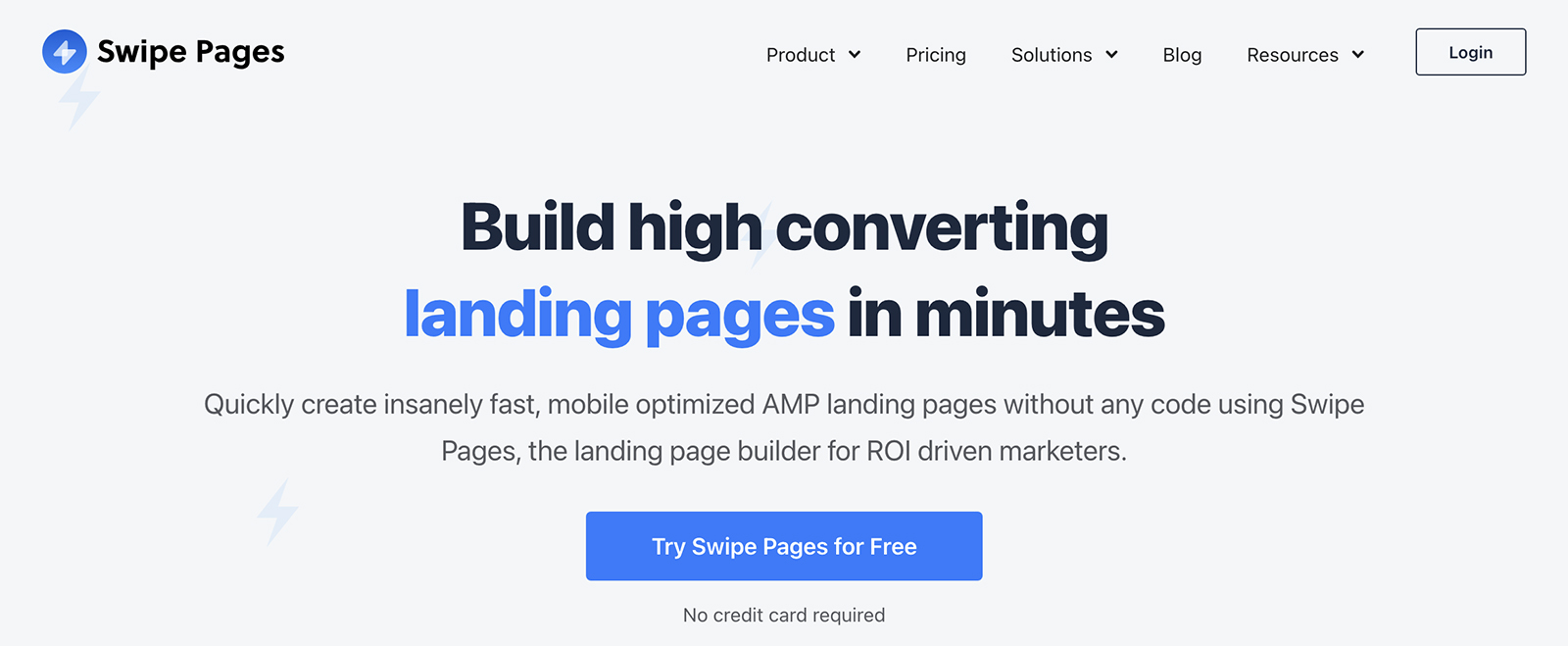 One of the simplest tools on this list, Swipe Pages creates high-converting, mobile-first landing pages. Its AI-powered tools can write better copy faster, and its ecommerce and lead generation integrations make it simple to fit into your tech stack.
What Swipe Pages does better: Swipe Pages' AMP landing pages are optimized for incredibly quick page loads. Since they can load in less than 2 seconds, they often deliver better mobile experiences that lead to more conversions.
Where Unbounce comes out ahead: While Swipe Pages does have A/B testing tools, it doesn't have the automated optimization tools that Unbounce does. If you want a tool with AI-powered Smart Traffic capabilities, go with Unbounce instead.
Swipe Pages pricing: Similar to Unbounce, Swipe Pages places traffic limits on each plan. Startup plans start at $39 per month for 20,000 visitors and unlimited conversions. Agency plans start at $199 per month and support 500,000 visitors and unlimited custom domains.
7. OptimizePress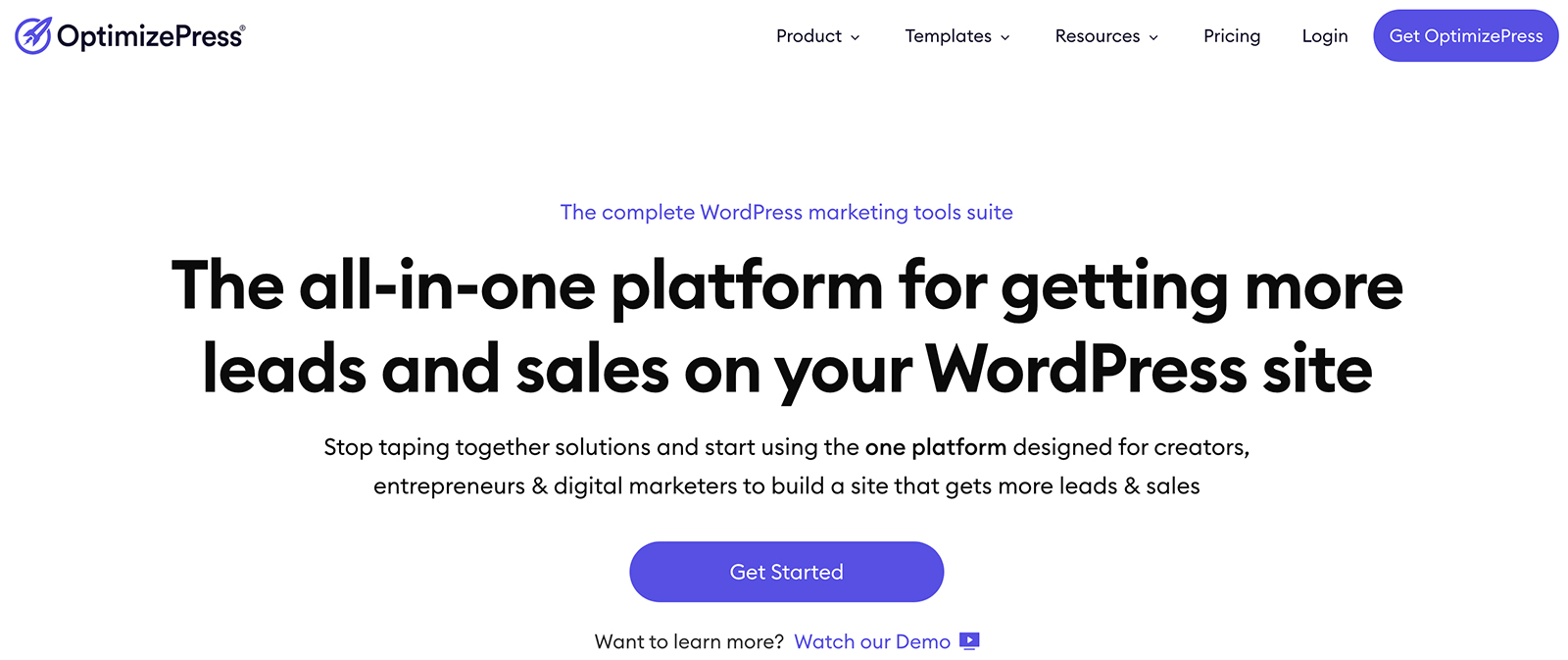 OptimizePress is a suite of WordPress plugins that can create landing pages, build funnels, sell ecommerce products, and set up membership sites. It has 400+ landing page templates, making it a good pick for marketers who want to get up and running quickly.
What OptimizePress does better: While Unbounce is a hosted solution, OptimizePress plugs directly into your website. As a result, it doesn't place limits on landing pages, conversions, or site traffic—making OptimizePress better for businesses that need more capacity.
Where Unbounce comes out ahead: As a hosted solution, Unbounce is more flexible and isn't limited to WordPress only. If you need a landing page solution that works with Webflow, Ghost, Dato, or other website platforms, go with Unbounce instead.
OptimizePress pricing: While OptimizePress plans are paid annually, the platform's overall costs are some of the lowest on this list. Builder plans start at $179 per year and offer landing page capabilities only. Suite Pro plans include the platform's complete WordPress marketing suite and licenses for five websites for $399 per year.
8. Elementor

Elementor is a no-code builder with a drag-and-drop editor. In addition to offering dozens of optimized templates, the platform allows almost total design flexibility. It also has a built-in form builder and a lead library, making it well-rounded marketing platform.
What Elementor does better: In addition to its free landing page builder, Elementor is a complete website builder. If you're looking for a tool to design and optimize your entire website, Elementor is a better choice.
Where Unbounce comes out ahead: While Unbounce works with most web builders and content management systems, Elementor is designed for WordPress. If you need a solution for other website platforms, use Unbounce or another alternative.
Elementor pricing: With Elementor's free landing page builder, you can create standalone pages at no cost. Pro plan pricing is based on the number of websites. Essential plans cover one site for $59 per year, while Agency plans cover 1,000 sites for $399 per year.
9. HubSpot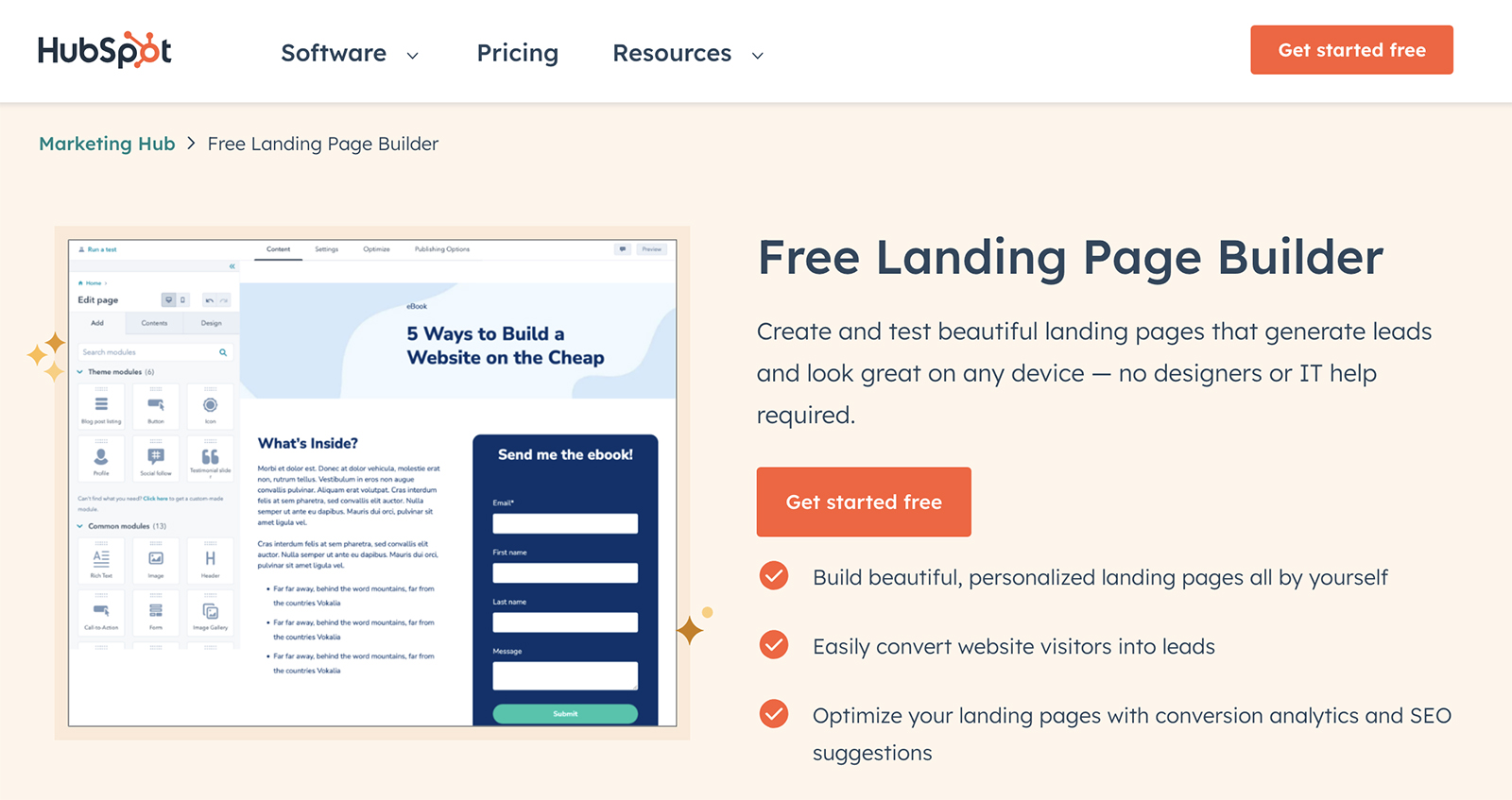 With HubSpot's Landing Page Builder, you can generate leads, collect signups, and promote launches using your existing tech stack. (If you're a HubSpot user, that is.) With its dynamic personalization, this tool can automatically tailor content for each website visitor.
What HubSpot does better: Because this tool is built into HubSpot, it integrates seamlessly with the platform's sales, marketing, and CRM tools. If lead generation and follow-up sequences are key parts of your process, HubSpot is a solid choice.
Where Unbounce comes out ahead: While Unbounce has 100+ landing page templates, HubSpot only has a couple dozen. If custom layouts and design flexibility are critical for your brand, Unbounce is a better pick.
HubSpot pricing: This landing page builder is packaged with HubSpot's marketing and sales tools. A basic version with HubSpot branding is available for free. Advanced features are available with HubSpot's Starter plan, which starts at $20 per month.
Get Started With Komodo's Custom Landing Page Builder
Getting your message across to colleagues, prospects, or customers can be much easier than you might think—and it doesn't have to involve sorting through dozens of design templates. Sign up for Komodo and start recording video messages and creating custom landing pages in minutes.
Get Unlimited Recordings with KomodoGet Komodo for FREE
About the author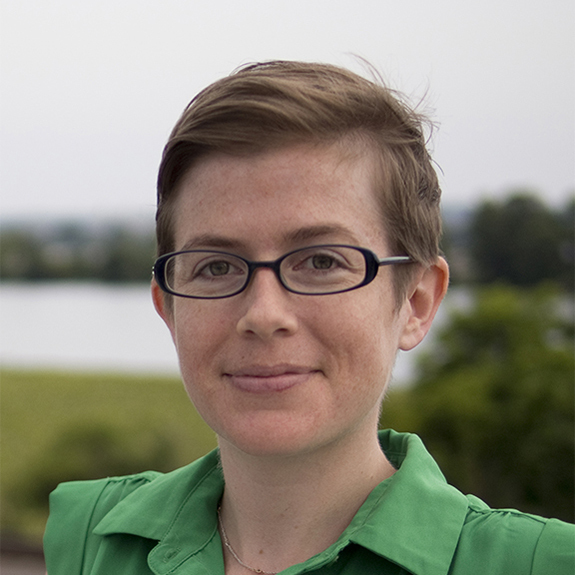 Anna Sonnenberg
B2B SaaS writer
Anna Sonnenberg is a B2B SaaS writer specializing in product-led and strategic content marketing for martech, sales automation, and productivity platforms.